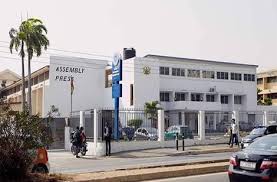 Minister for Information, Mr Kojo Oppong Nkrumah, has announced that Cabinet has given an approval for the Ghana Publishing Company Limited to carry out the exercise of security printing in the country.
The security printing, that the minister assured of includes the printing of items such as banknotes, cheques, passports, tamper-evident labels, security tapes, product authentication, stock certificates, postage stamps and identity cards.
The Information Minister made this revelation during the inauguration of a new production unit of the Ghana Publishing Company.
He said: "We will be working to roll out a road map on how the company will commence security printing, not just for the profitability expected to be associated with it but, more importantly, to deal with the necessary security protocols of state documents that it publishes".
He commended the management of the company encouraging other organisations to emulate the example of the Ghana Publising Company limited.
"These very impressive achievements demonstrate what we all can achieve working together for our motherland. When policy makers are focused on ensuring that the enabling conditions are created for enterprise to function. I want the right competent and committed persons appointed to lead organisations who will get staff focused and motivated to give off their best. When we all aspire for higher standards in what we do, then this is the results we can achieve as a people", he said.
Mr. Nkrumah emphasized that the inauguration of the building fits into a bigger picture of reorganizing the various agents of the ministry and "this includes the Ghana Broadcasting Corporation. the Ghana News Agency and the Information Services Department as well as the newest compression."
He revealed that the Ghana Broadcasting Corporation is commencing a reorganization program that is aimed at making them equally more efficient and a cutting-edge for the future.
He added that the Information Services Department has ruled out the RSD transformation program which is aimed at making them the leading agency in the country today.
"The Ghana News Agency and the new times corporation are also starting their own transformation program which in about a year from now we should join them celebrate their success is", he concluded.
The new unit of the Ghana Publishing Company has five speedmaster colour machines, known in the printing industry as the Perfect Binder, a two-colour speedmaster machine and a cutting-edge folding machine. They were procured from the company's internally generated funds.
The Minister concluded that there will be quicker turnaround time and world-class printing and packaging abilities that can compete with all other players on the market.
Mr. Oppong-Nkrumah was, however quick to add that, the machines alone will not do the work because it takes human beings who are well-trained and well-motivated as well as dedicated to operate and maintain these machines
"So, that they deliver value for all the stakeholders and deliver profitability to us as shareholders as well", he added.