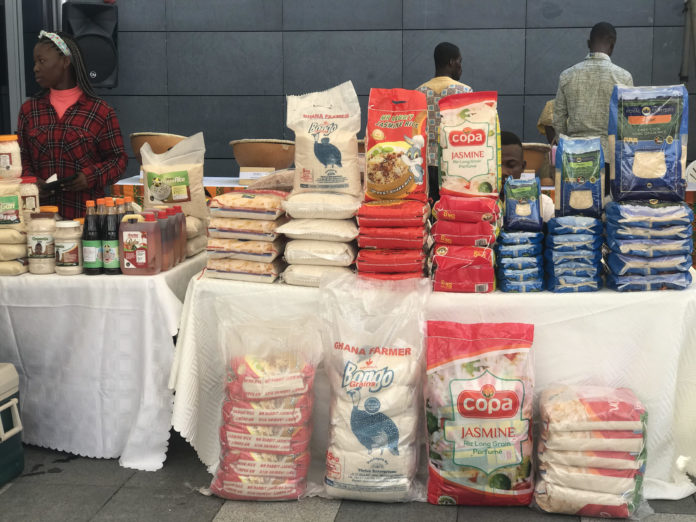 The Ghana Export-Import Bank (GEXIM) has organised an exhibition for local rice producers and distributors in support of the ongoing campaigns geared toward increasing patronage and consumption of locally produced rice in the country.
Dubbed 'Akuafo Ayekoo Thursday Market' and held in Accra, the show is primarily to promote the production and consumption of Made-In-Ghana Rice and is also a commemoration of the 35th National Farmers Day celebration.
Addressing media personnel present at the event, Head of Corporate Affairs-GEXIM, Richard Osei Anane, reiterated his outfit's resolve to reduce the import of goods into the country while promoting exportable products.
"As part of our support toward showcasing made-in-Ghana products, we have been organising the 'Thursday Market' geared toward exposing what our clients have been producing for the export market. We have held about five shows which have been very successful, and most of the participants have gotten contracts to produce more.
"This specific 'Thursday Market' is meant to support government and the people of Ghana in promoting production and consumption of local rice. It is obvious that we spend so much foreign exchange to import rice, most especially during the festive period.
"So, this a forum is specifically for bringing together producers and distributors of local rice so that they will become a one-stop-shop for all. It is our way of supporting the national call to reduce imports of rice and encourage consumption of Ghanaian products," he said.
Chief Executive Officer of Gyamphi Foods – producer of 'Nhyira Rice', Kwame Gyamfi, in an interview with the B&FT shared some of the challenges producers face.
"The challenge has been with the price and influx of the foreign products. Now, we also have a challenge where government has reduced the foreign imports charges when already our price is high.
"Government should give entrepreneurs funds to produce more and equip their production houses; when this is done, the production cost will come down so that cost of the product will also reduce for every Ghanaian to be able to afford to eat the local rice," he pleaded.
Commenting on the issue of pricing, Mr. Anane – while urging that government continue to give incentives in the area of rice production – also noted that increased patronage has a way of also reducing cost at the production stage.
He said: "It may be true because foreign governments subsidise the production of rice they want to export. Our government has been giving incentives, but it will take some time.
"As an institution, this is what we are doing; but collectively, if everyone decides to use locally produced rice, in our ow small way we will have an aggregate that will have an effect on the import of rice in the country."
Currently, a 5kg bag of locally produced rice costs between GH¢25 and GH¢40.
Another local rice producer, Irene Kumi Adams of Shadams Company Limited – producer of Yaa Babie Local Perfumed Rice, also joined the call for government to provide funding for entrepreneurs in the rice production sector.
She noted: "Formerly, the market for it was low because of the perception that local rice is not quality and is tasteless; but this is no longer the case. But our main challenge is the finance. We don't have any help from government, and that is not helping.
"We also entreat government to check the high cost of farm inputs and fertilizer, which makes the cost of production very high."