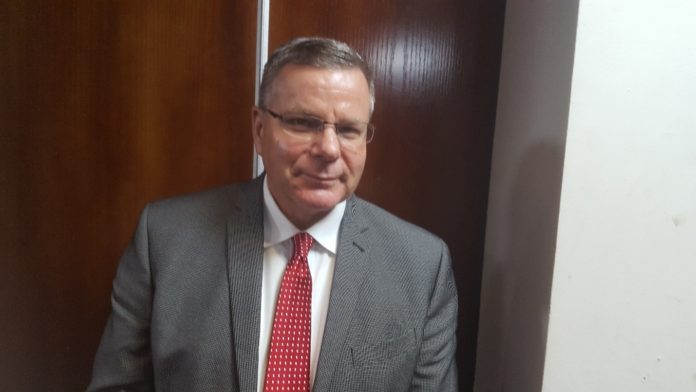 The only missing piece in Ghana's quest to become Africa's top investment destination is its financial sector, which has experienced major setbacks in the last few years, an expert in international investments has said.
Although the country's relatively stable democracy, educated labour force and natural resources put it above its peers in sub-Saharan Africa, the expert believes that instability in the financial sector, particularly the financial markets, remains a huge disincentive to the investor community.
"In today's world, financial markets go hand in hand with Foreign Direct Investments (FDIs)," said Managing Director for Emerging Markets-Africa at Atlantic American Partners, Daniel Ryan.
"The plusses here are more than the minuses, and if your financial sector can stabilise that will be a big incentive for investors," Mr. Ryan told the B&FT in Accra during a media briefing on his firm's EB-5 programme.
Mr. Ryan, who has over ten years of experience working in various African countries as a consultant, also noted Ghana is looked at as one of the top destinations for investment in the whole of Africa because of a number of factors; including its natural resources, educated labour force, basic and stable infrastructure, among others.
"My firm has been in investment banking for 45 years and we have been involved in about US$40 billion projects in 160 countries. So, we know so much about international markets and therefore see Ghana as an enviable place to do business," he further stated.
Leadership key in attracting FDIs
He said Rwanda's miraculous rise to being one of the continent's fastest developing economies means that with the right leadership and political governance, Ghana could become a leading example in Africa and the world.
He added: "From what I have seen, there are a lot of good indicators; this is a country on the move and you could become Rwanda in a different way. Ghana has more resources to be more attractive than Rwanda has become".
He also said next year's elections, if managed successfully, will set the pace and tone for the country to benefit tremendously from the increased investor appetite in Africa, adding: "Ghana has elections coming next year, which will set the tone for the next four years and how investors view it.
"If the issue of governance can be strengthened, you will see a great increase in FDIs; because FDIs are directly related to investor confidence in a country's ability to govern itself," he indicated.
Commenting on the country's competition for investments in the West African sub-region, Mr. Ryan said: "Obviously, Nigeria remains Ghana's primary competitor because of the market size – a huge population. Lagos alone is about 21 million people, but as far as we are concerned, Ghana has the most plusses in all areas except the financial sector. It is the only sector that prevents you from getting to the top".
EB-5 Programme
Atlantic American Partners (AAP) is a USA-based investment company with diverse sustainable portfolios in real estate and financial and asset management.
Mr. Ryan is in the country to promote the company's foreign employment-based investor programme, known as AAP EB-5. It allows potential investors to invest in the United States economy in order to enjoy several benefits.
"The programme is a foreign investment initiative that requires individuals to deposit US$500,000 – which allows the investor to own a portfolio of assets in the United States. This diversified approach helps reduce risk and loss of capital," he said.
He added that the EB-5 programme comes with benefits such an opportunity to move to the United States with one's spouse and other unmarried family members below 21 years on 18 to 24-month temporary green cards.
He said the programme, approved by the US government, also allows individuals to work anywhere within America; travel to and from one's country of origin without visa; start a business, as well as access education in colleges and universities at US-resident cost.
"Potential investors also a get refund of their lump investment sum and 10 percent annual interest if all conditions are met by the AAP EB-5 fund. The investor also stands to receive 25 percent of capital gain on the appreciation of assets involved in the private equity fund liquidation," Mr. Ryan explained.