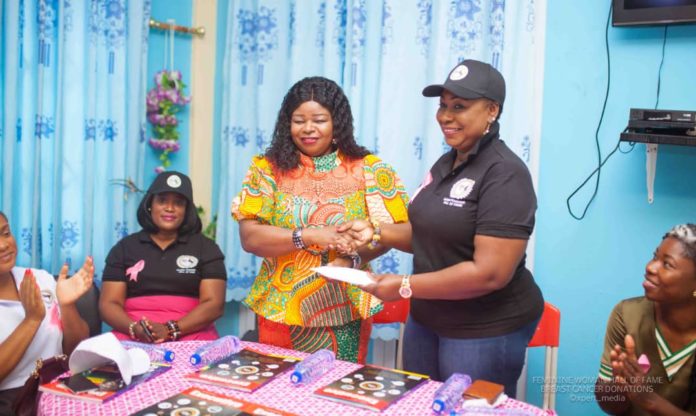 Members of the Feminine Hall of Fame, a group of Ghanaian women who have distinguished themselves in their various fields of entrepreneurship, have donated to the Peace and Love Hospital, a Breast Cancer Treatment facility towards breast cancer awareness campaign.
The group presented an undisclosed amount of money to the Chief Executive of Peace and Love Hospital, Dr Beatrice Wiafe-Addai, who is also the Founder of Breast Care International, a Non-Governmental Organization  (NGO) to help end the canker.
The Feminine Hall of Fame of is made up of over 25 members from various business and professional backgrounds across the country.
They were inducted by The Business Executive Magazine as an advocacy team to help formulate and implement policies as well as serve as mentors to upcoming young female ones.
Additionally, the inductees would work towards women inclusion in critical thinking and also help as many women as possible from all walks of life to achieve their highest goals. As part of the effort, each of the inductees is to ensure they mentor at least two other women or ladies every year.
Madam Gifty Anti, President of the Feminine Hall of Fame, who led the Fame team, noted that breast cancer is believed to be the leading cause of cancer deaths in women in Ghana.
According to her,  the donation is to help the Breast Care International as well as the Peace and Love Hospital to provide treatment and awareness campaigns across the country.
She expressed the Fame team's commitment to consistently advocate and provide support for effective cancer treatment for all patients and survivors.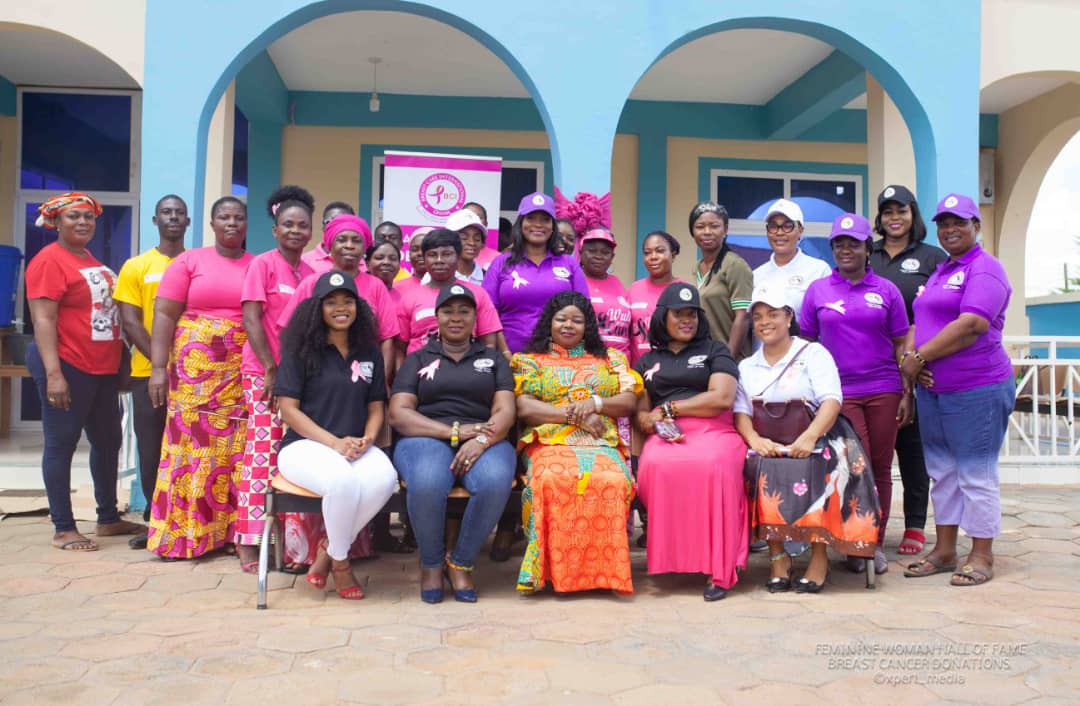 Cancer treatment, she said is a huge burden to patients and their relatives, hence the need for every Ghanaian to donate towards its treatment.
Madam Gifty Anti said "We have also realized that many people are faced with financial challenges and therefore I believe that this campaign will present an opportunity for women to be educated and screened. As a women group, we value and support the need for regular screening and also understand that early detection and treatment of breast cancer is critical for survival."
She used the opportunity to encourage members of the Feminine Hall of Fame and women in Ghana to have regular breast screenings and observe healthy lifestyles to decrease chances of breast cancer.
She also called on Ghanaians, especially men to offer support to their wives to regularly check their breast and as well support the awareness campaign as there is no limitation to breast cancer.
Receiving the donation, Dr Beatrice Wiafe-Addai, CEO of Peace and Love Hospital and Founder of Breast Care International expressed grateful to the Feminine Hall of Fame members for the support and promised to use the money for the purpose intended.
She said the aim of the establishment of the  Hospital and the Breast Care Internation was to expand access to the treatment,  increase the number of cancer patients who have access to treatment and to reduce drastically the delay period between diagnosis and treatment through an awareness campaign.
This goal, she said would be achieved by assisting patients who are struggling to financially plan their treatment by offering practical advice and as well working to change the survival rate of cancer patients by reducing treatment commencement lags in the country.
The World Health Organisation (WHO) has dedicated the month of October as  Breast Cancer Awareness Month, as an annual campaign to increase awareness on the disease.
The theme for this year's awareness campaign which is to be held at Cape Coast in Central Region is, "Early Detection is Best Prevention."