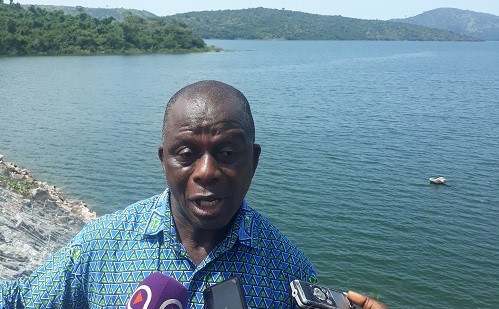 The Volta River Authority (VRA) is liquid enough to meet any financial obligations regarding maintenance of the Akosombo and Kpong Dams, Ing. Eugene Ada Asomontsi, Director of Engineering Services Department, VRA, has said.
A review and rehabilitation of the Kpong and Akosombo Dam Safety Monitoring System/Instrumentation Project (2013-2015) cost the Authority US$3.9m – as well as the rehabilitation of the Kpong Dam's East and West Dykes and Spillway Project which is currently ongoing (2018-2020) and estimated to cost US$6.8m.
These costly repair works are aimed at ensuring safety and longevity of the dams, and Ing. Asomontsi reckons the exercise will not affect the Authority's books as they have substantial capital outlay provisions for it.
Speaking to B&FT exclusively on the margins of a one-day tour to the Akosombo and Kpong Dams regarding dam safety assurance engagement, Ing. Asomontsi stated: "We have enough funds for maintenance of the dam; and don't forget that maintenance of the dam is different from maintenance of the powerhouse or power infrastructure – with one being the maintenance is huge and the other government came in to support, which is why they are doing the retrofit; but for the dam itself – the civil structure, VRA does the maintenance itself.
"Last year and this year alone, we spent almost US$10m on maintenance that is solely from VRA's IGF."
By international best practice, VRA will be expecting the dam review-board in town next year to carry out periodic review exercises of the dams – which are financed solely from the Authority's internally generated funds.
The review mission team is expected to come in March next year; the dam review board carries out its work every five years and is made up of experts in different fields, all to do with the dam. These persons are nominated by International Commission of Large Dams (ICOLD).
On cost of maintenance for the dam, he indicated that it is rather low – given that "if you spend US$10m on an asset that is worth US$1.5billion it is nothing; this is a US$1.5billion asset sitting here and you spend US$10m in two years for the maintenance".
For him, there is value for money as well, given that the dam generates over 900 to 1000megawatts of electricity; and "if you calculate how much we get from it, that investment is really worth it".
The Akosombo Dam is considered the third-largest man-made lake in the world, after Lake Kariba in southern Africa.
With initial installed capacity of 912 megawatts, subsequently increased to 1,020 megawatts after retrofitting, the Akosombo Dam has helped in the industrial development of Ghana, and is currently considered the cheapest source of power in Ghana.
However, reports have suggested that after 54 years the dam's safety could be compromised and that it should be decommissioned – but officials of the Authority have moved in to negate any such concern.
Akosombo Dam is safe
"The maintenance culture starts with inspection – we have a whole team in Akosombo and Kpong which undertake daily inspections; you have to do inspection before you determine what type of maintenance is required," Ing. Asomontsi explained.
Furthermore, a report by the review mission in 2015 concluded: "The Akosombo and Kpong dams are safe and pose no threat to public safety; these facilities will continue to serve their purpose for many years to come. The Authority implements a rigorous Dam Safety programme and has an excellent maintenance culture".
The team also noted that properly-designed and constructed embankment dams can remain structurally stable and safe for centuries, as long as they are not subjected to erosion and other adverse processes.
The entire tour to the Akosombo and Kpong Dams was under the auspices of the Ghana Journalists Association (GJA) and Volta River Authority (VRA).