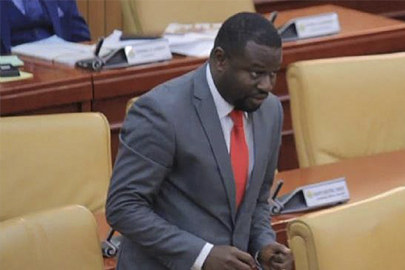 Chairman of the Foreign Affairs Committee and Member of Parliament for Nsawam-Adoagyiri, Frank Annoh-Dompreh, has urged government to consider using portions of oil proceeds to support renewable energy development to augment hydro and thermal power generation.
"With renewables, it is God given; you don't need to do much. Now that we have discovered oil and a number of new minerals, if you look at the value chain there are a number of raw materials that will be produced which could be used in the production of photovoltaic panels that attract solar energy and convert it," he told B&FT in an interview at Parliament House, following a statement he presented on the floor on the future of renewable energy in Ghana.
According to him, renewable energy is the surest means of reducing our energy generation bill, which rises needlessly in this modern era of technology.
Health benefits associated with the renewables push include a reduction in C02 emissions and maintaining the country's biodiversity.
The 2017 World Bank Solar resource data show that Ghana falls within a Photovoltaic (PV) power region with areas, especially in the North, labelled with yearly sum totals of 1,607KW per hour, while Kenya has PV areas recording yearly sum totals of 1,826 KW per hour; and he reckons "if they are utilising this optimally, Ghana can do the same".
"It is time to practicalise our renewable energy plans and set the tone for sustainable energy generation while contributing to the global agenda for climate change to sustain the earth," he added.
Energy generation contributes hugely to increasing temperature rise and climate change; so apart from the cost build-up and energy bill that we are seeking to reduce, he explained, if the country is able to consciously and repeatedly ensure that it applies itself to the Energy Act passed in 2011, then the country will be able to save some money and invest in other sectors of the social economy – and also reduce the load on the national grid.
Once the national load is reduced, it means the difference could be used to empower our industrial drive and sector – so we have a very good opportunity to complement our energy generation through fossil fuels with renewable energy, whereby the renewables can be used for our public sector institutions: schools, hospitals, police posts and others, he noted.
Mr. Annoh-Dompreh indicated that several national grid-connected public institutions are burdened with colossal amounts of debt to their energy supplier, year in year out.
Of the few that are disclosed, not many generate enough revenue to offset those debts without collapsing their operations. This breeds an attitude of constant reliance on government intervention against budgetary allocations, thus hampering development in many other sectors of the growing economy.
Ghana's hydro energy, which is in itself renewable – as defined in Section 2 of the Renewable Energy Act 2011, Act (832) – generated a significant 51.5 percent of total electricity supplied, according to the Energy Commission's WEM bulletin for January 2019.
Though this percentage was attributed to shortfalls in the fuel supply to thermal plants, it gives an indication that we cannot continue to rely on the increasing cost of fuel to supply thermal plants; and it show that renewable energy is capable of complementing existing sources of energy to meet demands of the people when explored to its fullest extent, he noted.
He also maintained that Independent Power Producers (IPPs) needs to be supported and encouraged in order to create a profitable and conducive environment for adopting renewable energy.
The European Union has also expressed its readiness to support Ghana in this regard.
The Ministry of Energy projects the 10 percent renewable energy penetration plan detailing solar to add 20 megawatts (MW) of power, and wind 240 MW by 2020, among other renewable sources being considered.
The AIMS energy journal revealed in a study that the potential of solar in Ghana, however, is estimated to be an untapped 50-100MW of usable renewable energy. Specifically, the abundance of solar resources in Salaga, Bawku, Bole, Bolgatanga, Navrongo, Tamale, Wa and Yendi show that Ghana is endowed with solar energy potentials which are conducive for the installation and utilisation of solar energy technologies and systems.
With sustainable energy developments envisaged through policies and conventions like the United Nations' Sustainable Energy for All (SE4All) initiative, the Sustainable Development Goals (SDGs) and the United Nations Framework Convention on Climate Change (UNFCCC), there is no doubt that Ghana can transition to a laudable status for clean energy generation in the near future.
Furthermore, the country – even though enjoying significant power supply from hydro plants generating about 900MW of reliable capacity – does not possess geothermal energy, wind or solar power, which have the potential to provide several hundred megawatts of green energy to Ghana.