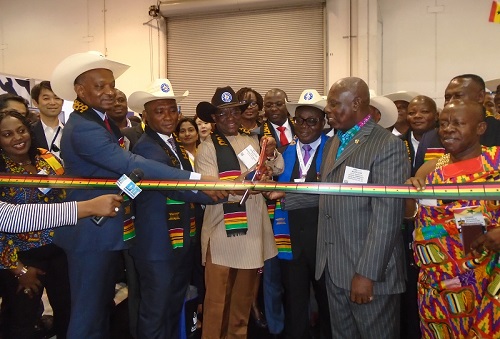 Tullow Ghana Limited is one of the companies participating at the 2019 edition of the Offshore Technology Conference in Houston, Texas.
The conference, ongoing since 1969, marks its 50th anniversary this year. It highlights technology, innovation and activities in the global oil and gas industry, attracting international oil companies and service companies.
This year is Tullow Ghana Ltd.'s second participation under the auspices of the government of Ghana, led by the Ministry of Energy and the Petroleum Commission.
On Monday the for Ghana Pavilion opening ceremony took place, with Minister for Energy, John Peter Amewu, leading the Ghana delegation.
Tullow Ghana's Executive Vice-President, Kweku Andoh Awotwi, delivered brief remarks indicating Tullow is pleased to collaborate with the government of Ghana through the Ministry of Energy, the regulator the Petroleum Commission and our Partner – the GNPC, to promote the strides Ghana has made in the oil and gas industry at this Ghana Pavilion of the OTC.
Mr. Awotwi said: "Our presence here highlights our collective commitment to growing and developing Ghana's oil sector and seeking partnerships".
The Minister for Energy, John Peter Amewu, stressed the need to showcase Ghana's successful foray into the global oil and gas sector and draw from the required expertise, both indigenous and from the diaspora.
Mr. Awotwi further added: "OTC is a convergence of best and brightest in the global oil and gas industry, and is a good opportunity to showcase Ghana's progress, potential and prospects. It will be an exciting time here in Houston. As a collective, I know we aim for great participation from which we can draw useful lessons and experience".
The Conference is for four days, running from the 6th to 9th of May, and creates opportunities to strike partnerships for further developing the potential of Ghana's oil and gas sector.
Also participating are Kosmos Energy, Aker Energy, MODEC, Prime Meridian Docks, Seaweld Engineering, Ghana Ports and Habours, the Ministry of Energy, the Petroleum Commission and the Ghana National Petroleum Corporation.
The Tullow Ghana delegation was led by Kweku Awotwi, Executive Vice-President-Tullow Ghana; and joined by Cynthia Lumor, Director, External Affairs, Social Performance and Local Content; Irene Asare, Director, Business Support; and Elike Mawuli, Well Engineering Manager.
The rest include Patrick Ampong, Government and Public Affairs Advisor; Nixon Amoah-Awuah, Human Resource Manager; Dzifa Bampoh, Communications Manager; and Eunice Annobil, Project Planning and Performance Advisor.