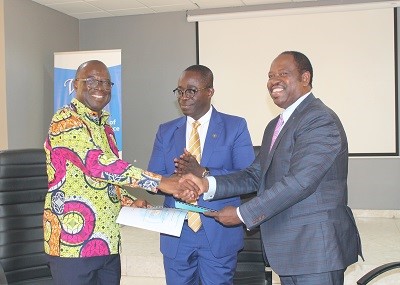 Government will continue to play its legitimate role to ensure that the country's power sector remain stable, robust and self-sufficient enough drive the industrial agenda and to alleviate poverty, Energy Minister John Peter Amewu has said.
In a speech read on his behalf at the signing of an MoU to admit VRA Academy into the African Network of Centres of Excellence in Electricity (ANCEE) in Accra, he indicated that recent investments into the energy space are geared toward that course.
He cited the sod-cutting for construction of the US$993million Pwalugu Multi-Purpose Dam Project in the Northern sector as a key example of government's readiness to deliver reliable and affordable energy for industrialisation.
According to the minister, completing of the project will undoubtedly accrue to the benefit of Ghanaians in terms of industrialisation and agricultural expansion through irrigation, along with the associated power supply.
"The expected outcome of all our initiatives and actions in the power sector is to deliver affordable, clean and reliable power to our people for industrialisation and poverty alleviation."
He however stressed: "But that can be achieved when we run our installations efficiently, reduce our technical and non-technical losses; and improve on our revenue collection as well as arrest power theft".
The ascension of VRA Academy to the ANCEE positions it as a fully-fledged centre of excellence within the ANCEE.
Mr. Amewu tasked the VRA Academy to live up to the expectations that come with its new status as a centre of excellence in energy training, and urged various regional institutions which have helped the school to continue with their support – particularly in the provision of tools and equipment for innovative skills training to meet the demands of clients
"Your ascension comes with pride; and indeed we share in that pride, but along with the pride is a huge responsibility. You cannot afford to let Ghana down. I trust that you will live up to the task," he noted.
The ascension of VRA Academy to the ANCEE of APUA offers the institution an opportunity to share its 60 years of operational excellence with sister bodies, as well as raises the bar for performance required of utilities in the industry.
Chief Executive Officer of the VRA, Emmanuel Antwi-Darkwa, said the significant feat is a giant step in promoting regional cooperation and integration.
"This project, in my view, will go a long way to improve performance of the energy sector in Africa, intensify cross-border exchanges, and help achieve affordable and reliable access to energy on the continent."
He added: "It is therefore imperative that we collaborate as a body through the exchange of experiences and expertise in a win-win approach to ensure the provision of effective, efficient and sustainable development for our energy sectors".