Deputy Energy Minister, Mohammed Amin Adam, has tasked players within the Liquified Petroleum Gas (LPG) value chain to get their acts together so as to ensure effective and successful implementation of the Cylinder Recirculation Model (CRM) programme.
Speaking at a stakeholder engagement on the draft LPG policy, which will guide implementation of the CRM, he implored the stakeholders to "embrace a change that is not intended to destroy but to innovate, to reform and to get things better in the interests of our people.
"It has been a difficult decision, but it is one that had to be taken. Some people have been hurt; but we hurt ourselves today and we are happy tomorrow, that's what life is all about.
"We need to give the policy a chance to work and see how it solves the peculiar needs of the industry and consumers as a whole. We all have a responsibility to make it happen," he said.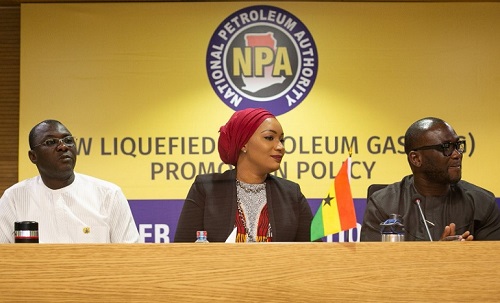 According to Amin Adam, the well-being of Ghanaians remains a major priority to government, hence efforts will be intensified to ensure that Ghanaians benefit from the policy.
The minister indicated that the CRM will only be changing the manner in which LPG is distributed and consumed in the country, contrary to perceptions that the exercise will cause some existing businesses in the value chain to shut down.
He said: "Your jobs are still secure; we are only changing the manner in which LPG is distributed and consumed in the country.
"We are minded by the local content law, which stipulates that a venture like this one should be fully reserved for Ghanaian equity participation; non-Ghanaians will not be allowed to operate under the model."
In line with implementation of the CRM, Mr. Amin Adam said the 510 Liquified Petroleum Gas (LPG) retail outlets which were classified as high-risk in recent safety audit by the National Petroleum Authority (NPA) will be converted into cylinder distribution centres under the Cylinder Recirculation Model (CRM) programme.
The remaining outlets that were deemed to be medium- and low-risk will be used as auto-gas refilling centres, but only with improved safety and operational standards.
The Cylinder Recirculation Model (CRM) is the implementation model for the National LPG Policy, and is aimed at providing direction for marketing and distribution of LPG in a safe and efficient manner, and to facilitate an increase in access to LPG nationwide.
The CRM seeks to ensure that at least 50 percent of Ghanaians have access to safe, clean and environmentally-friendly LPG for domestic, commercial and industrial usage by 2030.
Chief Executive Officer of the NPA, Alhassan Tampuli, said the LPG policy will among others ensure local content and participation in the LPG sub-sector, in compliance with the Downstream Local Content Policy.
He added: "The policy seeks to develop a market-driven structure to ensure safety, increased access and adoption of LPG, and also enhance the capacity of existing regulatory institutions in order to enforce the regulatory requirements of the new market structure.
"It will also ensure the existence of robust and standard health, safety and environmental practices in the production, marketing and consumption of LPG while ensuring the sustainability of supply."
He said implementation of the CRM will add some 4,500 to the job market, in addition to existing jobs for bulk transporters, BDCs, and BSCs operating in the LPG space.
"Direct job-creation is estimated to be over 4,500 in relation to new jobs under the actors of the new value chain and door-to-door delivery service.
"There will also be a number of indirect jobs created for installations, maintenance, fabrication and other services. New investment opportunities such as bottling companies, bottle transportation, manufacturing of cylinders and cylinder re-distributors will also be up for grabs," he indicated.
Mr. Tampuli said the CRM model of LPG distribution will be implemented fully with the issuance of relevant licences, while safety protocols will be keenly observed to ensure safety for the public.
The theme for the Liquefied Petroleum Gas Cylinder Recirculation Model Stakeholder Engagement is 'CRM: Creating More Jobs, Securing Our Safety'.