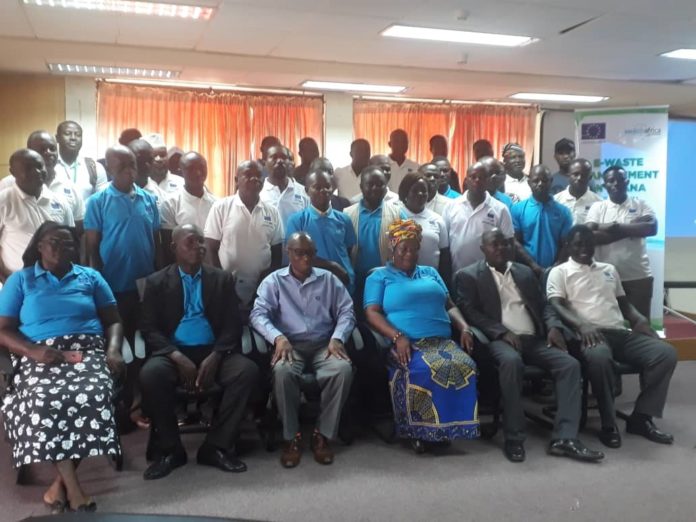 The Electronic–Waste (E-Waste) Management in Ghana (EMAGIN) in partnership with the European Union (EU) have organised a two-day capacity building workshop on formalisation for associations in the electronic waste sector at Takoradi.
About 50 participants who participated in the workshop are from the Scrap Loaders and Dealers Association, National Refrigeration Air Condition Owners Association, Ghana Electronic Association, as well as General Scrap Dealers Association from the Western and Central Regions. The workshop discussed the need to formalise their activities and support government to tackle electronic waste management in the country.
Samuel K. Ganusah, Assistant Chief Company Inspector at the Registrar-General's Department, speaking at the workshop on 'Registration of Businesses' explained that it is a legal requirement for businesses to register with the Registrar-General's Department offices across the country.
"Failure to comply with this requirement is therefore an offence for which one is liable to a fine, a term of imprisonment or both," he said.
"If you register your business, you can take advantage of opportunities. You can register in categories such as sole proprietorship, partnership, limited by shares among others. If you do not register your business or association, EMAGIN cannot work with you," he explained.
According to Mr. Ganusah, registering a business builds trust and confidence, as well as making it easy for individuals and businesses to engage the services of an entity. He said it is very important for businesses to introduce auditors into their businesses to audit their account so they will be able to file their returns to the Ghana Revenue Authourity (GRA) at the end of the year.
"Provide clear documentation to show specifically who the business belongs to and this makes it easy for document resolution. This is a basic requirement of corporate bodies; let your business be formalised and law-abiding, it is basic requirement for government contracts," he added.
Yaw Sarfo Afriye, Western Regional Director-Environmental Protection Agency (EPA), pointed out that individuals or groups of people who would like to establish electronic collection centres need to have a site-plan that is very authentic.
Also, he mentioned that a certificate of incorporation, business registration, comprehensive insurance for transporters 'which covers the project', and a letter from the assembly must be made available. "Always register and keep records of collections; we will not allow collection centres to be located in a residential area," he said.
However, he added that satellite collection centres are permitted in approved residential areas to ease collection activities. "This is after a permit has been issued by the EPA; you maintain records of e-waste collected, received, dismantled, transported, recycled or treated, as well as file annual returns to the agency."
Transporters, he mentioned, need to comply with road safety regulations. "There should be proper labelling and proper waste storage handling." He added that associations can also come together and build a recycling plant in an industrial area.