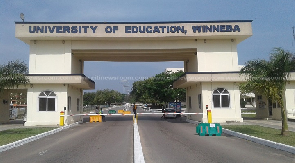 Following a series of demonstrations by students of the University of Education, Winneba (UEW), the Central Regional Security Council has indefinitely shut down two campuses of the university.
The shut-down follows violent protests on Thursday which led to injuries for some students and destruction of university property.
Students of the university have up to 6:00pm today (Thursday) to vacate the Winneba and Ajumako campuses, Central Regional Minister Kwamina Duncan ordered after visiting the school in the wake of the violent incident.
He described the scene at the Winneba campus as chaotic, and explained the latest decision is to ensure lives and properties are protected, saying: "We cannot sit down for this [violence] to continue".
Heavily-armed police personnel have taken over the Winneba campus to prevent any further incidents of violence by the students – who have been demanding the reinstatement of their dismissed lecturers and also asking for the resignation of their Vice-Chancellor, Rev Prof. Afful-Broni.
The university has a mandate to produce professional educators to spearhead a national vision of education aimed at redirecting Ghana's efforts along the path of rapid economic and social development, and currently has about 57,000 students pursuing various degree, diploma and certificate programmes.
UTAG's position
The University Teachers Association of Ghana (UTAG) has accused the Vice-Chancellor of the UEW, Prof Afful-Broni, of sacking and suspending over 30 different categories of staff, including senior lecturers of the university, for various reasons.
UTAG argued Prof Afful-Broni was at his investiture tasked to resolve the longstanding impasse between the university and some of its staff – some of which took legal action against the university over some of its decisions.