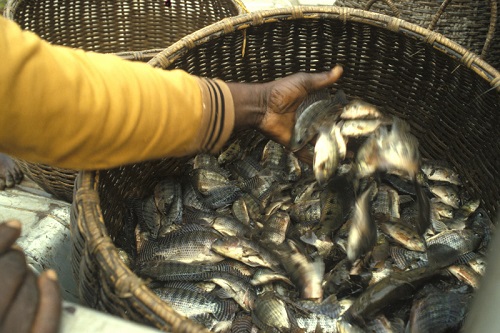 The Department of Fisheries and Aquaculture of the University for Development (UDS), Nyankapala Campus, has commenced fingerlings production to feed tilapia fish farmers in the Northern Region.
The project, which aims to produce enough fingerlings for farmers, is to augment the Rearing for Food and Jobs initiative.
Currently, the University has five ponds constituting 2,000 fingerlings each. In all, it is expected to produce about 10,000 fingerlings to feed the fish farmers to boost tilapia production in the northern part and the country at large.
The Head of the Department, Fisheries and Aquaculture, Dr Akwasi Ampofo-Yeboah, who disclosed this to the B&FT, said the University has acquired four tanks capable of producing 1,500 fingerlings within six months of 300-400 grams.
"The Northern Region has lots of storage reservoirs and they need to be stock with the fingerlings for production to meet the high demand in the country and to reduce importation," he said.
Most farmers in the region, he added, want to go into tilapia farming but do not have acess to fingerlings, hence the initiative.
He explained that the University has so far, injected GH¢38, 000 for the commencement of the project.
He also stressed that water from ponds would be channeled to nearby farms for irrigation purposes.
According to him, the department is committed training people who want to venture fish farming, in order to boost local production of fish.
Potentials
According to the Food and Agriculture Organisation (FAO), Ghana is one of the leading fish consuming nations in the sub-region.
The country, however, does not have the capacity to meet local demand and has to depend largely on imported fish. This means that there is huge opportunity for fish farming in the country.
"We believe that if we can produce more, the cost of fish will be affordable for all to patronize because fish is good for our health," Mr. Ampofo- Yeboah added.
He said it was unacceptable that the country spends so much resources importing fish which can be produced domestically.
For his part, Prof Elliot Alhassan, Dean of the Faculty of Natural Resource and Environment at UDS, called for the establishment of an inland fisheries and aquaculture center of excellence to help boost tilapia and fingerling production in the country.
He therefore, appealed to government to establish a research center that can address nutrition and diseases affecting livestock and fish.