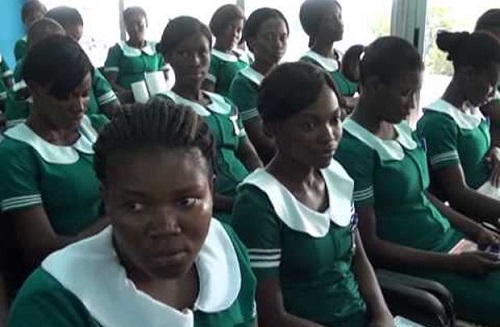 Beryl Ofori-Asamoah was ecstatic when the University of Ghana offered her admission to study nursing, her dream job. She thought nursing would provide her an opportunity to achieve what she calls "monumental goals" in life. Today she has the degree, but no job. Government has failed to post her, and her colleagues to health facilities.
Like Beryl, the nurses who completed their education in May 2016, have had to still depend on family and friends for financial support. They have been promised posting by government, but it is taking forever.
The message they get from the Ministry of Health has remained the same: "you have not been given financial clearance", which means they could not be employed. The situation has left the nurses stranded, as their dream of practicing their profession now rests on hope.
Dorcas Boateng, 26, another nursing graduate who completed the University of Ghana in May 2016 described her having to stay home without a job as depressing, frustrating, and a waste of her youthful vigour.
"Aside the burden on my parents, for me as an individual it is so much depressing and frustrating. As if you are just wasting your life. Now, we have to rely on hope. If I could turn back the time, I would never have chosen nursing.
The nursing course is very demanding. You don't even have vacations and at the end see where we are. So, for some of us, if we really could turn back the hand of time, we wouldn't have chosen it," she told the B&FT.
Another nurse, Stella Asiedu, whose father is on retirement, described the situation as depressing, saying she has regretted ever choosing nursing.
"It is heartbreaking to still depend on your parents after they spent so much on your education. I feel very disappointed and sorry for myself for choosing this programme and not rather going to the training college. I would have been employed two years ago if I went to the training college. I have regretted and I advise my friends never to make this mistake we made that has left us home," she said.
For Godsway Deku, after unsuccessfully applying for jobs in private health care facilities, he has turned his attention to doing something totally unrelated to nursing just to survive. He would rather do that than wait for a posting that only God knows when it will come.
Ironically, though, it is estimated that Ghana needs about 40,000 nurses and midwives to fill a huge nurse/patient gap. Meanwhile, thousands of graduate nurses are still at home after graduating from school.
For the graduate nurses, all they want to hear from government is when they will also receive financial clearance from the Ministry of Finance like their colleagues bonded nurses who have received theirs and are starting work in April this year.
A press release signed by Chief Director for the Ministry of Health, Nana Kwabena Adjei-Mensah on February 22, 2019, indicates that the ministry, in September 2018, received financial clearance to employ 14,254 nurse assistants who have commenced work by February 1, 2019.
In addition to this number, the ministry has further received clearance for 5,787 bonded nurses and midwives who have completed their national service. Their financial clearance takes effect from April 1, 2019.
No mention was made of the graduate nurses as to when they will receive financial clearance to start work.