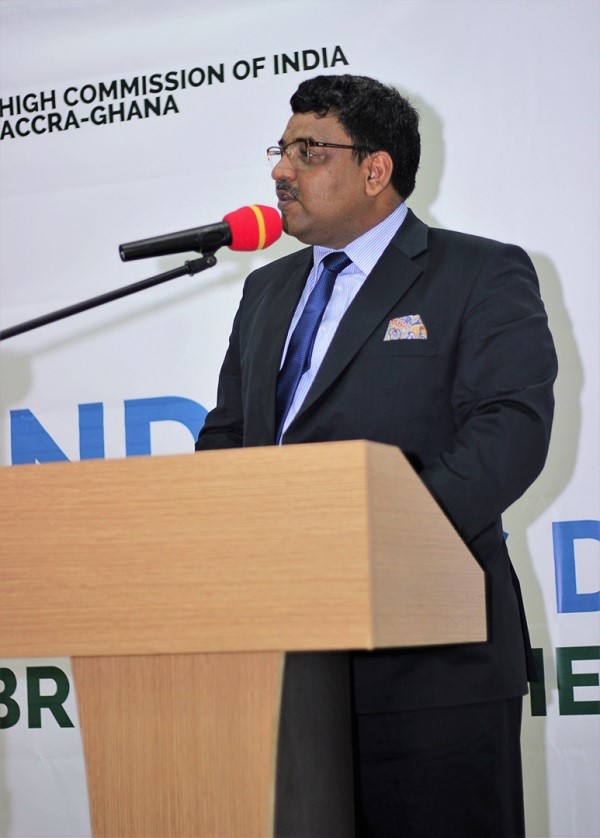 The objective of ICCR is to support students from African countries to study in the various universities in India.
The Indian Council for Cultural Relations (ICCR), is an autonomous organisation of the Government of India, involved in India's external cultural relations, through cultural exchange with other countries and their peoples.
H.E. Birender Singh Yadav, High Commissioner of India to Ghana said, the event which is being organised under the auspices of the Indian High Commission and in partnership with the Indian government will establish an educational support for Ghanaian students with scholarships.
The Council addresses its mandate of cultural diplomacy through a broad range of activities. In addition to organising cultural festivals in India and overseas, the ICCR financially supports a number of cultural institutions across India, and sponsors individual performers in dance, music, photography, theatre, and the visual arts.
The policies and programmes pertaining to India's external cultural relations are; to foster and strengthen cultural relations and mutual understanding between India and other countries; to promote cultural exchanges with other countries and people; and to develop relations with nations, he said.
From self-funded schemes to others being funded through the Indian Council of Cultural Relations (ICCR) programme and the Indian Technical and Economic Cooperation (ITEC), over 50,000 African students, according to Indian President, were studying across various universities in India, he added.
"More than 120 Ghanaian students have also benefitted from the Indian government scholarship programme to pursue a two-year programme in Science and Technology, Engineering, Management, Humanities and Creative Arts etc. These courses are on offer from undergraduate, postgraduate to doctoral and postdoctoral level, said Mr. Singh Yadav.
Thomas Mensah Yaw from Ghana who had an opportunity to studied in the University, expressed similar sentiments when speaking at the programme.  He suggested that education in India was very competitive and offered one a real sense of purpose and capacity to go into the job.
I have an advantage to join the ICCR scholarship scheme and to enroll in one of the most prestigious scholarships in India. I never agree to having such a chance, but I will say by the grace of God and the good policy of my country and the republic of India has made this possible. Today I stand in front as one of the beneficiaries ICCR India, said Mr. Mensah.
It wasn't possible that a young man of 23years old will live his parents and go to a country without knowing anybody, I arrived there and I saw that it was incredible. Surprisingly when I got there, I saw that everything was more incredible that I thought it could be, its religious right, moral culture, education and circular relationship in India, he said.
I studied Bachelor of Arts in psychology, sociology, philosophy. I have studied a lot about Indian culture, society and trust. I therefore urge the Indian government to help enroll more students on scholarship schemes and to have good accommodation because, accommodation is a problem you will face when you go to India. It wouldn't be possible if students will get a hostel that is convenient and siren environment to study well, he added.