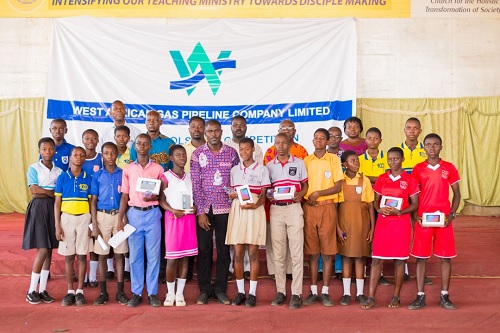 St. Michael Preparatory School in the Kpone Katamanso Municipal Assembly has emerged winners of the maiden edition of an inter-school quiz competition organised by the West Africa Gas Pipeline Company (WAPCo).
The company collaborated with the Ghana Education Service to hold preliminary contests for schools in the Kpone Katamanso area out of which the best eight s were picked for the final event.
Eight schools took part in the quiz and were quizzed on the four core subjects of Mathematics, Science, English and Social Studies as well as the activities of the WAPCo.
Deputy External Relations Manager for WAPCo, William Osei Owusu, said the quiz competition was the company's way of contributing to quality education as it corporate social responsibility to the communities in which the company operates.
He indicated: "When it comes to promoting quality education we know that the government alone cannot do it, so we working with them [the schools] to help achieve that.
This is the first time we are holding it, we want to learn from this maiden event so we can improve on it in the subsequent competitions."
WAPCo has several CSR programmes in the focus areas of education, water and sanitation and has over the last few years been awarding scholarships to brilliant but vulnerable students in fulfilment to its commitments to society.
Mr. Owusu added: "We believe that with these competitions it will boost the confidence and knowledge base of both participants and students to become more creative and to be able to solve problems."
A representative from the Municipal Education Office, Isaac Asamoah, commended WAPCo for the competition, which he described as an eye-opener.
He said: "This quiz competition is an eye opener, it has brought to the fore the need for us to step up efforts to promote effective teaching and learning in the municipality.
We want to encourage parents to continue to support their children in school by providing them with learning materials that they would need to learn effectively."
WAPCo operates in seven host communities in Ghana spread in three districts and according to Mr. Owusu, the quiz competition will be organised in all of its host communities.