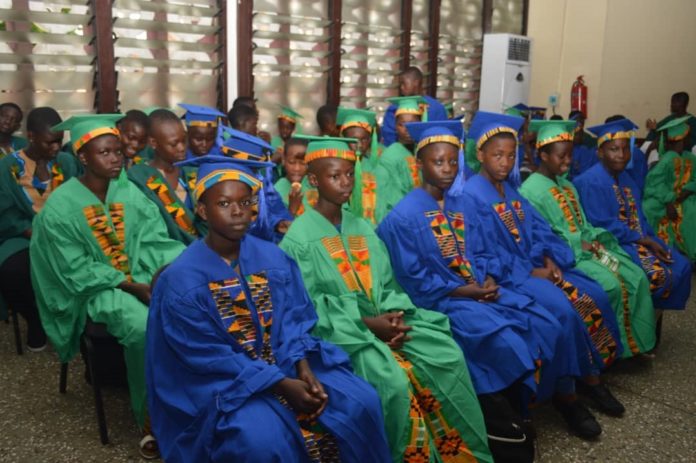 The Osu  St. Thomas Presby Primary and Kindergarten (KG) School in collaboration with the Old Students Association (OSTPOSA), has held the ninth graduation ceremony of the school
The event, held at the Ebenezer Presbyterian Church Hall, on 16th July, 2019, witnessed 25 pupils graduating from KG to Class one and 50 pupils also graduation from Primary to Junior High school
The graduation ceremony was solely funded by OSTPOSA, who made available robes for graduating students, provided for dignitaries and bought a poly tank for the school to ensure regular availability of water.
Speaking as the Guest of Honour, Member of Parliament for Klottey Korle, Zanetor Agyeman-Rawlings, showed appreciation to the staff of  the school for the hard work being done to bring out the talents in the children. She also congratulated OSTPOSA for the initiative and the tremendous support to the school in such a short period.
The MP, further promised her support to the school as she has been doing to schools in the Klottey Korle Municipality, even before her election into office.
Headmistress of the school, Mrs. Hannah Danso-Apau, expressed her profound gratitude to OSTPOSA, for coming to the aid of the school at such a critical moment to make the ninth edition of the most important programme on the schools calendar a memorable one
"Osu St. Thomas Presby Primary and Kindergarten school has produced a lot of scholars for the nation including doctors and professors and we have Professor Nii Agyiri Wellington, here with us today as a testament to that.
"The school started as a Kindergarten and later a basic school to upper Primary six, and to date it remains the same. We develop talents to some level and they have to continue from a different school at the Junior high school level and some of the schools are not able to identify and keep up with the talent development.
"We are pleading with government, Ghana Education Service and all stakeholders involved to come to our aid by providing as with a the infrastructure to accommodate Junior high school (form 1-3) so that we can monitor and continue with the development of this young talents until they are ready to enter into senior high school," she said.
The Greater Accra Presbyterian Church Education Regional Manager, Mrs. Joyce Apenteng, speaking to the theme "Environmental Cleanliness and Wellness; a Prerequisite for Healthy Learning" called on all parents to pay critical attention to their children's dressing and appearance in general because clean environment and appearance shapes attitude and behaviour which goes a long way to enhance academic performance.
The President of OSTPOSA, Nora Quaye, indicated that St. Thomas Presby Primary had made a lot of impact in their lives growing up as kids and it is only appropriate that they give back to their alma mater now that they are well to do in society.  She also urged all old Students of St. Thomas to join the association in order to have a stronger power to help and advocate for the school.
"OSTPOSA, was launched on 24th November 2018, and in less than a year we have organised several competitions for the school including talk shows, insurance sensitisation, providing poly tank for storage of water and today we have once again masterminded this ceremony.
"…our next programme will be the celebration of our one year anniversary on 24th of November 2019 and I urge all old Students to come on Board," she said.
Dignitaries present at the event were: Nii Adjei Tawiah,  MCE of Osu, Jane Amerley Oku as Chairperson, Pastor Charles Noi of the Osu Ebenezer Presbyterian church,  Prof. Nii Agyiri Wellington  and Rev. Nii Teiko Dagadu.
Also present at the event were; Vice President of the Association, Owusu Wellington Alexander;  Secretary, Gifty Chass-Ocloo,  and Former President, Benjamin Adumuah Nortei.