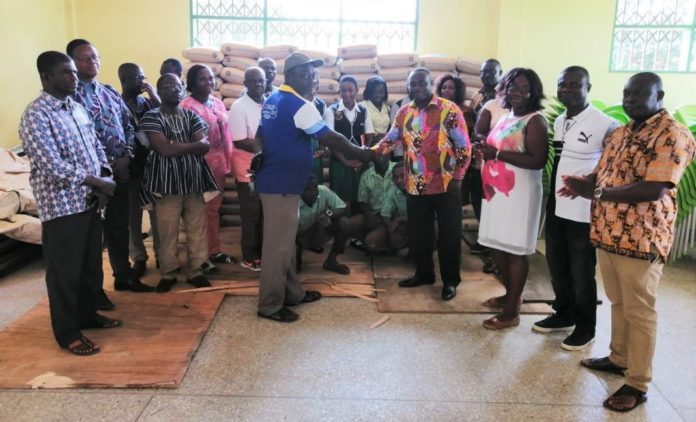 The 91/93 Year Group, of the Osei Kyeretwie Senior High School (OKESS) in Kumasi, has donated 120 bags of cement to their former school, towards the completion of uncompleted and other ongoing infrastructure projects.
The gesture, according to the President of the 91/93 Old Students Group, Mr. Frank Owusu-Ansah, forms part of the effort to ensure that the academic performance of OKESS is further improved.
He observed that by supporting the provision of adequate infrastructure, in the form of classrooms, dormitories among others, will help to provide the sound environment needed for teaching and learning activities to progress.
Also, he said given that maintenance of existing facilities is equally important in the realization of the academic goals of the School, he was hopeful that some of the cement would be used for maintenance works.
He urged past students of 'Ahenemma' to also support the school in any little way they can as a collective contribution to further enhance the image of the school.
The Vice President of the Group, Mrs. Noami Opoku, added that the gesture was supported by members of the year group both in Ghana and abroad.
She was also hopeful that the other year groups will be encouraged to periodically come to the aid of the school.
The Headmaster of OKESS, Mr. Andrews Boateng, receiving the items on behalf of the School expressed gratitude for the support.
He said the School is occasionally faced with incidents of burglary among others due to their inability to properly build a fence wall. So, with the support received, he said part of it will be committed to ensuring that the security of the school is tightened.
He explained that it will also help the School to maintain discipline among the students by curbing student 'runaways.'
Mr. Boateng also appealed to the Old Students Group as well as members of the other groups to assist the school with other projects it has embarked on.