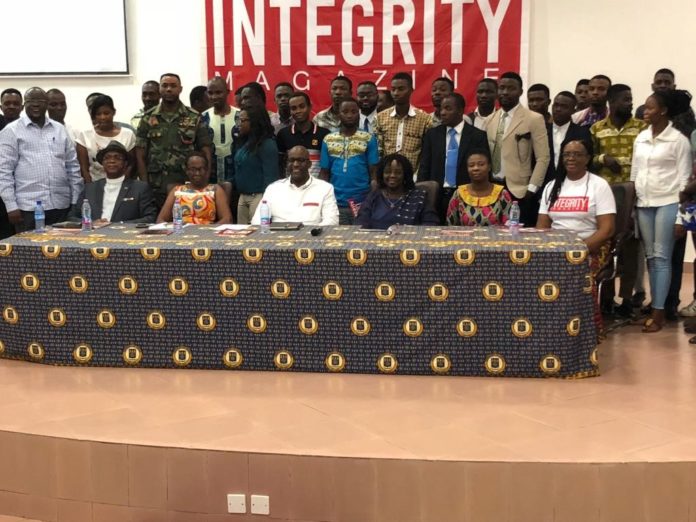 Corruption is an insidious plague that has a wide range of corrosive effects on societies. It undermines democracy and the rule of law, leads to violations of human rights, distorts markets, erodes the quality of life, and allows organised crime, terrorism and other threats to human security to flourish.
The fight against corruption in Ghana has intensified over the past decade through collaborations, consistent engagements and frequent sensitisation of the public by anti-corruption agencies and Civil Society Organisations (CSOs) without compromise.
However, political, petty and executive corruption – especially in government – seem to be growing immune; and given this scenario anti-corruption fighters such as the Ghana Anti-Corruption Coalition (GACC) believe that the way forward now is for millennials (people born between the early 1980s and late 1990s) to uphold their moral values, irrespective of the circumstance at hand and resist all acts of corruption.
In response, millennials present at an anti-corruption and student leadership roundtable made a demand for transformation and restructuring of bureaucratic systems that seek to suppress access to services without compromising on values, or conforming to an illegality in one way or another
The millennials indicated that while the call is aimed at supporting and enhancing their effectiveness to initiate actions to fight corruption, laws and regulations which enable office- holders to exercise discretion and apply protocol, among other hurdles, means either speak their language or being denied access to the particular service.
"Strengthening the institutions responsible for maintaining checks and balances over political power, and ensuring their ability to operate without intimidation are some of the transformation measures that will help us to hold onto our values," a student said.
Executive Secretary of GACC, Beauty Emefa Narteh, speaking on the theme 'Transparency among millennials: A necessity for economic growth', asked the students to outline values they uphold in life, and how they apply them. Values such as integrity, truthfulness, loyalty, openness and accountability among others were mentioned, which she encouraged them to hold onto firmly and vow not to let go.
The Editor-in-Chief/Publisher-Integrity Magazine, Rev. Kennedy Okosun, stated that even though government has taken some steps in curbing corruption, including setting up a Special Prosecutor's Office, Ghanaians still complain of a leadership morass that extends to even judicial, religious and traditional leaders – and therefore want more than just lip-service.
"The youth play an important role in the development of any country, and as future leaders it is important to ensure that in their transformative years – from student days to the world of officialdom – they are imbued with all the necessary tools that will enable them to stand out and/or stand up to be counted as morally upright, honest, loyal and leaders with integrity.
The 2018 Corruption Perception Index (CPI) scored Ghana 41 out of 100, and ranks the country 78 out of 180 countries included in the index," he said.
The 2018 Corruption Perceptions Index (CPI) released worldwide by Transparency International (TI), scored Ghana 41 out of 100 and ranked the country 78 out of 180 countries included in the index and 9th in the sub-Saharan region.
The report revealed that continued failure of most countries to significantly control corruption is contributing to a crisis of democracy around the world.
Principal, Egality Law, Korieh Duodo, indicated that research has shown how difficult it is to tackle corruption which has linkages with transparency, hence innovative and impactful ways must be adopted to tackle corruption.
"There are numerous laws available to tackle corruption. Lack of prosecution for corruption is a major obstacle to fighting corruption, and as such citizens must do more than merely rely on government to fight corruption or bring perpetrators to book.
"You students must bring up the various activist activities on campus to national level. Take inspiration from existing anti-corruption institutions like GACC, CDD, STAR Foundation, among others," he stated.
The Vice-President of Dominion University, Mrs. Alice Lamptey, stated that the basis of corruption is greed and a desire to amass wealth by public officials.
"As you participate in this continuous effort to intensify the fight against corruption, with specification of sensitising and igniting the zeal to fight corruption, I encourage you to hold onto these two pillars of fighting corruption – transparency and integrity," she admonished.
The Student Roundtable, event organised by Integrity Magazine, at the University of Ghana Law Faculty, was also attended by the Economic Counsellor of US Embassy, Hagen Maroney; Vice-President of Dominion University, Mrs. Alice Lamptey; Mrs. Teiko Sabah, Head of Programmes, STAR Ghana Foundation; and Rhoda Osei-Afful – Team Leader, Elections, Rule of Law and Anticorruption, CDD Ghana.
Corruption hurts the poor disproportionately by diverting funds intended for development, undermining government's ability to provide basic services, feeding inequality and injustice, and discouraging foreign aid and investment.
Corruption is a key element in economic underperformance and a major obstacle to poverty alleviation and development.
Millennials and Anti-corruption Organisations in a pose at the event.