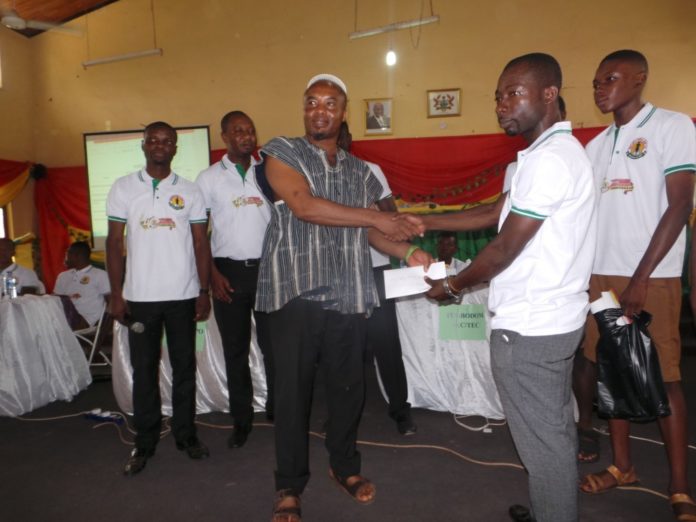 The Kintampo Rural Bank Limited at Kintampo in the Bono East Region has organised a science and mathematics competition for selected senior high schools in its operational area.
The Science and Math quiz was one the activities lined-up by the bank to commemorate its 40th anniversary celebration. The participating schools were Kintampo, Techiman, Jema, Tuobodom and Buipe SHSs. The competition also served as a prelude to the preliminary and national levels of the prestigious 'National Science and Math Quiz'.
At the end of the five-round contest Techiman SHS emerged victorious, followed by Kintampo, Jema, Buipe and Tuobodom respectively. The schools received cash prizes and souvenirs of Kintampo Rural Bank.
A Board Member of Kintampo Rural Bank, Dr. Sulemana Abubakari, underscored the importance of academic exercises such as the science and math competition to boost the public confidence of students, as well as help the cause of training the human resource base within its catchment area.
He therefore expressed the bank's commitment to financing more educational intervention projects, so as to enhance the quality of education within its operational area and beyond. Dr. Abubakari thanked the contesting schools for their "cooperation and high level of enthusiasm" in the competition.
The Kintampo Municipal Director of Education, Nelson Addai-Poku, described the competition by Kintampo Rural Bank as "a wonderful initiative" to support managers of education to improve academic performance. He appealed for other corporate institutions to emulate the example of Kintampo Rural Bank.
In an interview with BFT, Mr. Martin Mensah – General Manager of Kintampo Rural Bank – said other activities lined up for the 40th anniversary celebration include a free medical screening and health walk, a football competition, a clean-up exercise – and is climaxed with a durbar.
The bank was established in 1979 with five staff and an asset base of GH¢180,000; it has grown to become one of the biggest rural banks in country with staff strength of 119 and a stated capital of over GH¢2.3million. As at November 2018, it had an assets base of over GH¢39.19million. Kintampo Rural Bank was the first rural and community bank (RCB) to be established in the northern belt of the country. It has five branches and one mobilisation centre.