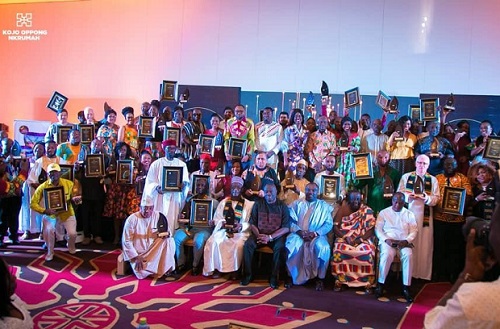 Business Development Minister, Dr Ibrahim Mohammed Awal, has announced plans to roll out an internship and mentorship initiative that will place fresh graduates in private sector businesses to hone their entrepreneurial skills.
The initiative, which starts from next year, will see about 40,000 young graduates being groomed and equipped with the necessary skillset and discipline that will enable them to start, nurture and sustain their own businesses.
"From next year, we are starting a mentorship programme that will place 40,000 young graduates in private businesses to help them grow their entrepreneurial capabilities.
Industry complaints about the lack of skills from our university graduates and we think that this mentorship and internship programme will help build the capacity that our young people need to grow their businesses," he told a gathering of industrialists at the sixth Made in Ghana Awards held last Friday in Accra.
According to the minister, building a Ghana beyond aid will require competent and skilled human capital base with right confidence, tenacity and ability to grow their business and employ more people.
He indicated: "I want to urge entrepreneurs to create opportunities for young people to grow in their businesses through mentorship. Help them to have internship in your businesses so they can learn the discipline to grow sustainable businesses.
That is the only way we can build sustainable businesses in this country; and it is very important for us if we are to build a Ghana beyond aid means to build  the human capacity."
Dr. Awal applauded industry for their support in helping to build a strong and resilient economy considering significant improvements in key macroeconomic indicators such as inflation and GDP.
He stated: "We could have achieved this without the private sector; I want to assure you that commend and reassure you that government will continue to improve the macroeconomic environment to make businesses grow."
To him, made in Ghana simply means that "we must build a brand and make the Ghana brand the most valuable in Africa. That's the only way we can sell the country and make sure that young people have the confidence, tenacity and ability to grow their business and employ people".
Charge d'Affaires for the US Embassy in Ghana, Christopher J. Lamora, in his remarks, said the US government remains committed to the national industrialization agenda citing the AGOA as a key driver of that vision.
But in addition to market access, he said Ghana will need more entrepreneurs to be able to realise its full industrial potential
"AGOA gives products originating in Ghana and other African countries a direct pathway to the U.S. market, and as a result, leads to expanded local manufacturing here in Ghana and more jobs for Ghanaian citizens.
In addition to access to strong markets, Ghana will also need more entrepreneurs in order to realize the full potential of industrialization.  That's why our Embassy team is helping to connect the next generation of Ghanaian businessmen and businesswomen with the networks, mentors, and investors they need to make their businesses successful," he said.
The MIGA Awards is an annually event powered by the Entrepreneurs Foundation of Ghana (EFG) to showcase and recognise premium quality products that are manufactured by Ghanaian industrialists to increase the trust and confidence of consumers in such items on the market.
The broader objective of the awards is to make locally made products and services more attractive to the Ghanaian consumer in order to curtail the influx of imported products on the domestic market and its dire impact on the local currency.
Founder and Group Chairman of Kasapreko Company Limited, Dr. Kwabena Adjei, was adjudged Overall Best Industrialist of the Year 2018 while Mr. AK Mirchandani, Chairman of Avnash Industries Ghana Limited was honoured with a Lifetime Achievement Award.
Managing Director of the Coca-Cola Bottling Company Limited was awarded Young Industrialist of the Year; CEO of JRA Cosmetics Limited, Jane Reason Ahadzie picked the award for Best Woman Industrialist of the Year; and Mr. Dhiraj Lakhiani, CEO of Blow Group of Companies awarded CEO of the Year 2018.
Bel-Aqua Mineral Water was adjudged Best Quality Mineral Water of the Year; Alomo Bitters won Premium Quality Alcoholic Bitters of the Year whiles Niche Milk Chocolate was awarded Premium Quality Confectionery of the Year.