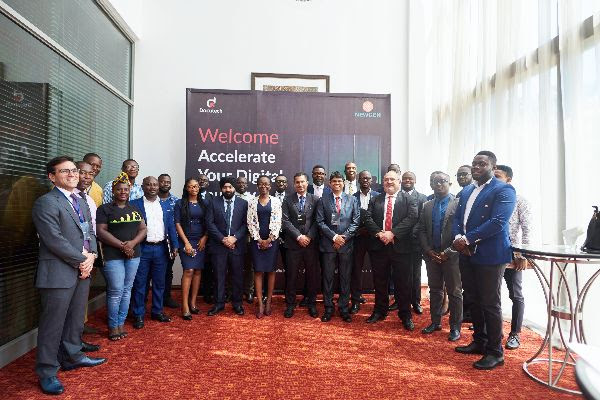 DocuTech, a digital service-oriented company, in collaboration with Newgen Software Inc., has held a workshop for government officials, financial institutions and enterprises to expose them to the need to inculcate digitization and innovation from Newgen to improve their business operations.
Dubbed "Accelerate Your Digital Journey", the workshop focused on digital transformation and gave insights on valuable strategies and tools needed to lead the next generation of Information Technology and to transform customers' experiences.
It also created the avenue for interactive questions and answers session as well as exchange ideas on going paperless and introducing digitisation in various settings.
Touching on the importance of the workshop, Managing Director of DocuTech Ghana Limited, Mr. Jean-Louis Feghali noted that the workshop provided an opportunity for education on futuristic governance by moving government-centric services to the cloud and leveraging the power of social and mobile computing.
He added that it brought agility to operations and context to data, for real-time visibility and control as well as explore the global standards and best practices in records and space management.
Mr. Feghali expressed excitement over the partnership with Newgen for the 'Accelerate Your Digital Journey' workshop saying Docutech has a mission to provide quality and innovative solutions for business owners and organizations.
The session allowed attendees an opportunity to better understand the relevance of a connected enterprise to orchestrate, contextualize and engage with customers using a low code application platform for digital transformation.
"This exclusive session is an opportunity for top-level management including Technology and business strategy executives and Analysts, consultants and partners to explore innovating the future of their organizations," said Mr. Feghali.
Mr. Feghali further explained that as an integration partner of Xerox, Docutech is involved in document management and therefore the focus of the event, is also to create awareness on digital process automation.
"So, it's about how to have less paper in the office and have more visibility of the documents in your organisations including the processes. Most public organisations have lots of documents on the tables because there are a lot of approval processes and it takes about five to 10 tables to have all these documents and therefore important documents could also easily get missing using the paper-system".
On his part, Mr. Taranbir Singh Bhatia, Sr, Key Accountant Manager of Newgen reiterated that the introduction of digital processing and automation will help decrease the use of paper.
The decision to promote digitization and less paper practice ties into the government of Ghana's agenda of transitioning to a paperless economy, making Ghana the preferred digital hub of innovation on the African Continent.
"We are bringing our solutions to help banks digitise and automate the processes of cumbersome paper works. So that superior customer experience can be delivered to their customers at a faster pace and to the extent that the banks are able to give service guarantees", he said.
Touching on security, Mr. Bhatia said that: "We do this internationally and we make sure that cyber security is our priority because new threats keep coming. So, we have dedicated teams in our New Journal apps who keep looking at these threats and proactively come up with solutions against those. Some of the largest banks and insurance companies including governments use our system. So, organisations in Ghana can be rest assured that we are bringing a secure solution".
About Newgen
Newgen Software Technologies Limited has been recognized by distinguished analyst firms including Gartner and Forrester. It features in the Wave™ Reports on Dynamic Case Management, Digital Process Automation and Enterprise Content Management by Forrester.
About Docutech
Docutech is a Licensed Integration Partner to Newgen Software Technologies with the mission to transform businesses by connecting systems, processes, people and things with Newgen Technology in Ghana.
Docutech has bridged the gap between digital printing products and services by providing innovative solutions to businesses in Ghana. Other partners of Docutech include Xerox, Sedus, Kofax, Equitrac, and Kodakalaris.