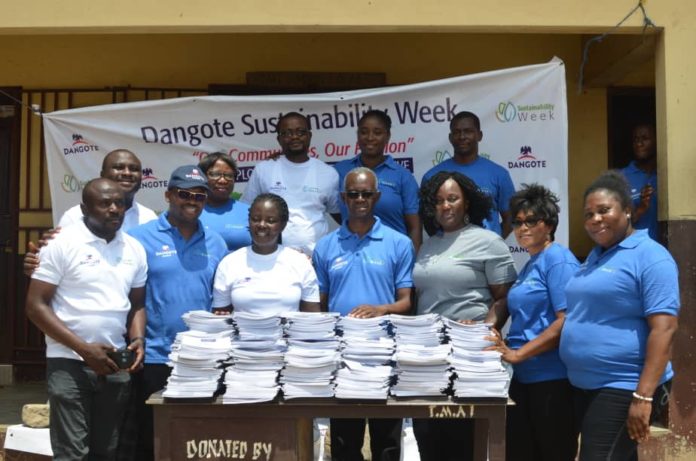 Cement producing giant, Dangote Cement Ghana Limited, has donated over one thousand of its branded exercise books to the Sakumono Primary and Basic School located in Tema West.
The donation made on Friday, October 4, 2019, formed part of the 2019 edition of the company's annual Sustainability Week Celebration.
This year's celebration was launched on Wednesday, October 2, 2019, at the company's premises in Tema, under the theme: "Our Communities, Our Passion. The Dangote Way."
Managing Director of Dangote Cement Ghana Limited, Brice Houeto, presented the books to the school on behalf of his outfit.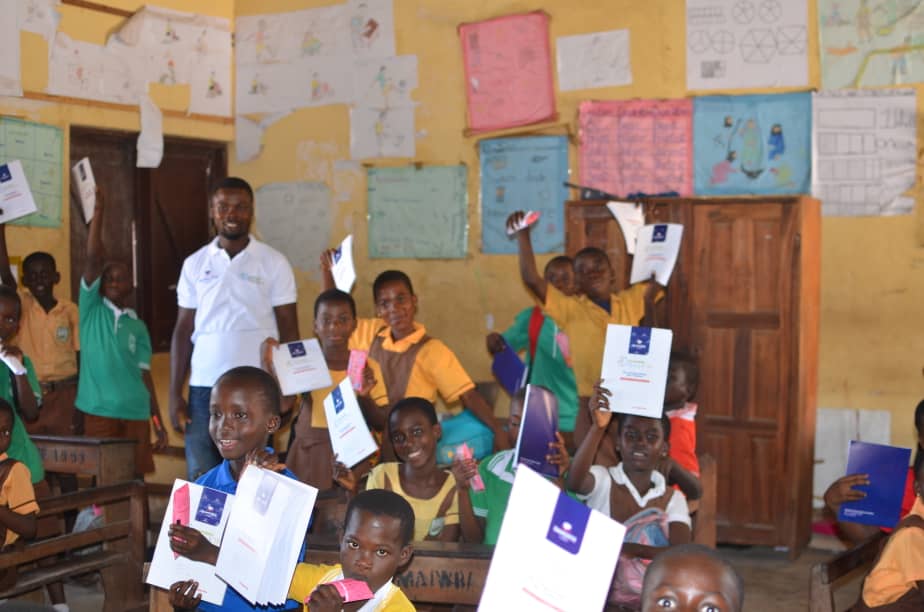 The pupils were overwhelmed with joy as they received the Dangote Cement Ghana team led by Mr. Houeto.
Mr. Houeto and his team had interaction with the pupils and educated them about  Dangote Cement Ghana's operations.
Headmistress of the School, Patricia Boadi, received the books on behalf of her Institution.
She thanked Dangote Cement Ghana for its generosity.
In a typical Oliver Twist fashion, she appealed to the company to donate cement to the school to enable it complete its fence wall.
 About Dangote Cement in Ghana
Dangote Cement has operated in Ghana since 2011, importing and bagging bulk cement at its terminal in Tema and selling into the domestic market.
It was recently upgraded to handle up to 1.5Mta of bulk cement per year and we have begun importation of cement from our factories in Nigeria to reduce our need for cement imported from outside the ECOWAS region.
The factory employs nearly 700 Ghanaians in manufacturing, logistics and administration.
World Class Cement 
Dangote Cement is of the highest quality and comparable to any quality cement brand globally. Cement from Dangote's modern factories is sold in 50 Kg bags, 1.5 tonne jumbo bags and in bulk tankers.
Stringent quality assurance processes are put in place so that customers can be assured of receiving a high-quality product that meets all the required technical standards.