Zoomlion Ghana Limited, a subsidiary of the Jospong Group of Companies, has inaugurated a US$20million ultramodern recycling and compost plant in Accra.
The plant is designed as multi-purpose with the capacity to process plastics into pellets and discover other materials, such as paper and electronic waste among others, and turn them into raw material for industry.
The Integrated Compost and Recycling Plant, christened the Accra Waste Recovery Facility, has a 90 percent waste-recovery rate with the capacity to handle 800 metric tonnes of solid waste on a sixteen-hour shift; and an additional 200 tonnes of compost per day to support the agricultural and horticultural sectors.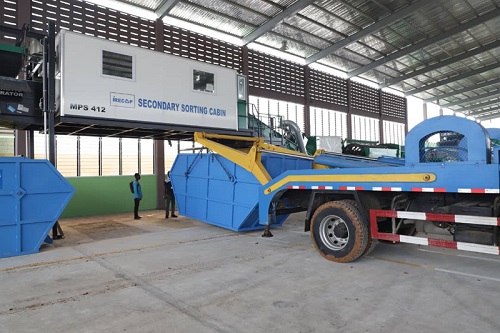 In his address, the Executive Chairman of Jospong Group of Companies – Dr. Joseph Siaw Agyepong, indicated that it has become necessary as a country to find ways of properly managing waste to create value and also protect the environment in the process, while achieving the Sustainable Development Agenda pertaining to Goal 6 by 2030.
He added that due to the numerous challenges in maintaining landfill sites in the country, the company deemed it necessary to introduce innovation for managing and recycling the about-5 million tonnes of waste created annually in the country to create value; hence the new facility's birth.
"In order to realise the ambitious objectives of the 2030 Sustainable Development Agenda pertaining to Goal 6, it is imperative that we manage our environment in a way that protects our ecosystems and builds resilience. This is a major challenge to our dear country, Ghana.
"As a research, innovation and development-oriented company, a review of Zoomlion's operational methods brought to the fore a need for further transformation in our operational methods, which had been dependent on landfill dumping. This transformational agenda also coincided with the period when government declared its desire to see Accra as the cleanest city, soonest.
"Zoomlion's motivation to be part of the rapid waste processing solution was aroused, leading us to collaborate with our European technology partners – Komptech Austria – to find integrated waste technology that can be quickly be installed and be capable of handling the type of mixed waste as we currently have in our communities," he said.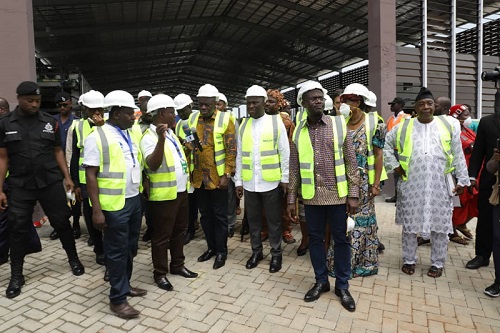 The Group Chairman commended President Nana Addo Dankwa Akufo-Addo and his government for their commitment to tackling the country's sanitation challenges, and their support for the private to assist in achieving the set goals.
He added that: "All these initiatives we are undertaking fall in line with government's vision of making Accra, and for that matter Ghana, clean. They also go to support the industrialisation agenda of One-District, One Factory (1D1F) that aims at bringing development to the doorsteps of ordinary Ghanaians.
"As we interact, three consignments of the Integrated Waste Recycling and Composting Plant have arrived in the country. By the end of August 2019, the equipment will have been installed in Tamale, Kumasi and Takoradi. Zoomlion, I must emphasise, plans to install these waste processing facilities in all the 16 regions of Ghana.
"Let me also add that through the implementation of these projects, we are also responding to support government's social inclusion agenda of creating jobs for the teeming youth across the regions. For this project alone, 2000 direct and indirect jobs will be created along the value chain for both locals and professionals," he said.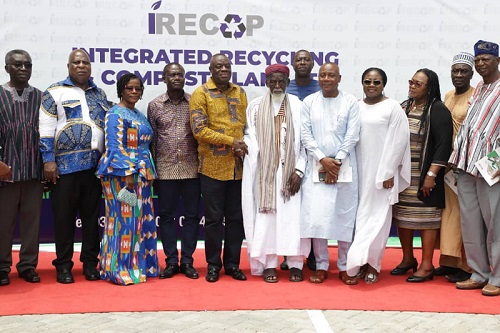 In a speech read on his behalf by the Business Development Minister, Ibrahim Mohammed Awal, Vice-President Dr. Mahamudu Bawumia said the project is in line with government's resolve to make Accra the cleanest city in Africa. He promised government's commitment to support the indigenous business processing of waste in the country.
"I must say, this is a shared passion by the government to see a collective effort in improving upon the environmental cleanliness of our dear country, by the end of 2020. It is therefore very heartwarming to know that the private sector through this illustrious and enthusiastic entrepreneur Dr. Joseph Siaw Agyepong, and his company Zoomlion Ghana Limited, has taken up the challenge to support government in making this vision a reality.
We know that government alone does not have the requisite logistics and capacity to achieve this, we will therefore continue to collaborate with private sector operators like Zoomlion and other service providers to achieve this," he said.