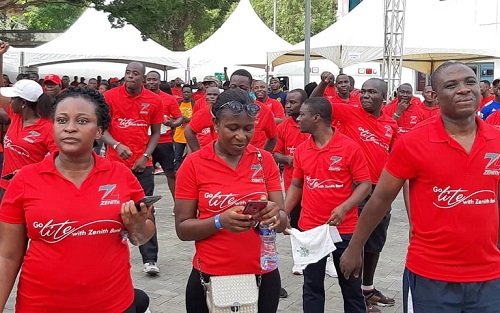 Zenith Bank Ghana on Saturday went on its health walk to highlight the several advantages that come with the numerous digital products the bank has developed to enhance the convenience of banking.
The 14th edition of the health walk was on the theme: "Go Lite with Zenith Bank…Live Lite."
Henry Oroh, MD/CEO of Zenith Bank said the health walk was used to further raise awareness on the Bank's digital products and services that make banking safer, faster, smarter and more convenient for customers.
According to him, the bank organised the walk due to the value it placed on the health of its staff, partners and customers and urged all to work towards living healthy lifestyles.
He said good health could be achieved by adopting the right behaviours and also by positive thinking.
The bank, he said, has for the past 14 years pioneered the adoption of digital solutions in the Ghanaian market with tried and trusted products that were constantly evolving to meet the dynamic trends of its customers.
Mr Oroh expressed the Bank's commitment to use savvy technology and super innovative products to optimally attract about 70 percent unbanked population on the continent.
"These products are Z-mobile, internet banking, cards, MoMo/Banking 2 wallet and Scan to pay," he added.
Mr Oroh also commended customers for their loyalty and unflinching support in doing business with the bank over the years, adding that the bank believes in the innovative products and services they offer to their cherished customers.
The Zenith Walk has been supported by staff of latest Foam, Ashfoam, Toyota Ghana Limited, Promasidor, Del Hospital, C and J Medicare and the Ghana Olympic Committee (GOC) among others.
The walk route stretched from Zenith Heights on the Indepedence Avenue – Movenpick – Kinbu Traffic Light – Tudu – Zenith Bank Kojo Thompson Road Branch – City Paints Supply – Compu Ghana – Champion Restaurant – Vanderpuye Orgle Estate Limited. – Holy Spirit Cathedral – Psychiatric Hospital – Ridge Hospital – College of Physicians and Surgeons – back to Zenith Heights.