Zayall Enterprise, a Ghanaian owned business entity, has officially opened an ultramodern eatery that preserves, prepare and enhance quality of food at Akuafo Hall, University of Ghana (Legon Campus).
The ultramodern eatery named Village Canteen (VC), is the first by the organisation in the country but several others nationwide are to be rolled out soon with the aim of becoming a leading brand in the foods services and hospitality industry offering well prepared indigenous dishes under hygienic condition.
The Chief Executive Officer, VC, and Former Head of Audit, Ecobank Group Technology and Operations Platform, Marcus Selassie, indicated that Village Canteen is underpinned by a sense of passion for humanity and seeks to provide original traditional delicious meals that are served in the villages but eludes many urban folks.
"Our vision is to create the biggest food court and food chain business that ever emerged out of Africa, to deliver value to our clients and to be an employer of choice.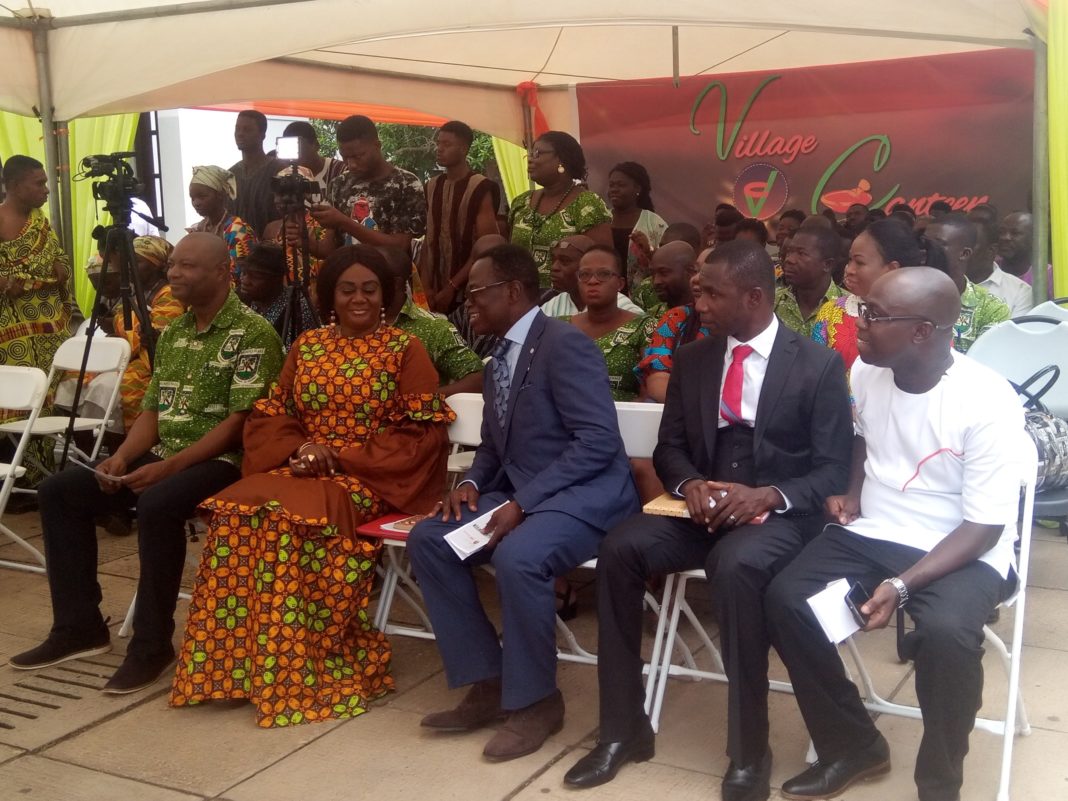 "Village Canteen is operating on Legon Campus because University of Ghana is home to many foreign students which will allow us to showcase and serve our ever delicious Ghanaian delicacies as well as a mixture of some known continental dishes to people with different nationalities.
"If you look around, you will not see any Chinese bank around but you will find many Chinese restaurants around and this is because they have perfected the act and so every day when you find a very beautiful damsel and you want to impress her, you take her to a Chinese restaurant and blow away some few Ghana Cedi's and very soon we want to change this narrative," he said
He also indicated that VC intends to provide food for people with special dietary needs such as persons with diabetes and hypertension among others who are on special dietary regimes.
The Director of Zayall and Vice President of Citizens Bank, USA, Edem Avotri, indicated that it took two years of planning, negotiating and hard work to bring to birth VC which is going to be the lion of food service in Ghana and beyond.
He further expressed that VC is considering getting to a level where foods will be delivered to clients by drones.
Minister for Tourism, Arts and Culture, Barbara Oteng Gyasi, speaking as the special guest of honour at the launch event, expressed satisfactory with the initiative as it is in tandem with the ministry's campaign that seeks to promote "Feel Ghana, Wear Ghana, Eat Ghana, Drink Ghana, and Love Ghana."
"I am excited to be part of the launch of Village Canteen, a new food court that is said to provide quality meals for a healthy life within the Ghanaian hospitality industry.
"I want to applaud Zayall Enterprise for this canteen which will introduce new assorted Ghanaian foods and drinks into the university community in unleashing the vast potential of the sector.
"…government is putting in place important interventions that serve as catalyst to accelerate tourism investment and to make Ghana preferred tourism destination in the Sub-Saharan region.
"The sector is mandated to promote economic growth, alleviate poverty and create jobs. This represents opportunities for economic diversification and income generation," she said.
She further stated that government will continue to play its effective role in ensuring efficient partnership between the Private and Public sector for the overall wellbeing of the economy.
Chairman of the occasion and astute legal practitioner Yoni Kulendi, reiterated the importance of food stating that great things have very small beginning but make great impact irrespective of the size of the beginning.
"Customer delight is a basic necessity and that is the core aspect of VC and so customers should aspect nothing but the best," he assured.
Akuafo Hall Master, Dr. George Akanlig-Pare, expressed his profound gratitude to Zayall Enterprise for choosing Akuafo Hall over all the others. He also explained the key roll farmers played in sustaining the university in the early stages of its establishment which informed the decision of authorities to name the hall Akuafo (Farmers) Hall.
"I will like to also appeal to Management of VC to roll out a plan that will see students pay in advance for their meals at a discounted price probably on semester or monthly basis so that they can enjoy three square meals daily because, most of them do not know how to cook which is affecting their nutritional balance for health growth.
"secondly, they also use all kinds of electrical gadgets to cook which increases electric consumption and makes our utility bills too expensive and unbearable," he said.
Mr. Marcus, also outlined that Zayall Enterprise is into organic agriculture farming, hence plans are in place to make sure that in few years to come, about 90 percent of every foodstuff to be used by VC will come from the farm to ensure foodstuffs prepared were not contaminated at the cultivation stage.
VC, irrespective of the high class food it offers coupled with the serene and hygienic conditions under which the food is served, presents very affordable prices that all classes of students can afford.
Students and the general public can eat their favourite fufu, banku, kenkey among other local foods with as little as GH₵5.00