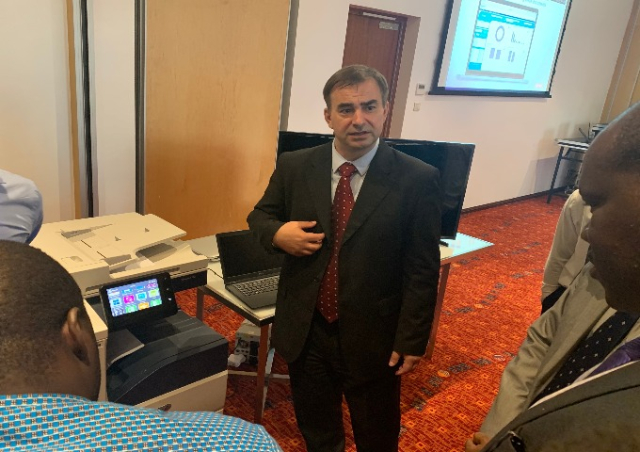 Docutech Ghana Limited, the authorized local distributor of Xerox Products in Ghana has hosted the 'Xerox Find Your Solution' two-day workshop to share practical insights on new printing technologies and digital software.
Led by Xerox global experts, the workshop presented an opportunity for participants to have first-hand experience with new technology in the printing industry and enabled them to better compete in the rapidly changing business sector environment.
In an interview, General Manager of Docutech Ghana Limited, Jean Louis Feghali, explained that: ""The future is a connected, virtual, mobile, digital, and physical world that business owners must be ready for. The Xerox Finding Your Solution event is one of the platforms we at Docutech are using to provide the business community with an in-depth education on innovation and technology in printing to advance the success of their organizations,
"A simplistic way to explain digital transformation is to state that if you want to go digital then you have to print less. To be able to print less you need to understand what you print. Our machines help you get this info. Then you have to understand why you print and if it is necessary or not. Our team can help you assess, define and redefine process to reach print optimisation for paper reduction. Once this is done we are in a position to create digital workflows that will then really complete your digital transformation."
He again added that: "Docutech and Xerox provides a cost efficient workplace with productive employees working in a secure environment.  All our products are powered by advanced Technologies and software to ensure Comprehensive security which is essential when we deal with sensitive datas.
Users also get the option to let the machines convert documents which it has translated into audio which it sends directly into the mails of the user.
On security, Mr. Feghali said the new Xerox printers also allow users to hide certain confidential information of documents before printing adding that the smart printers are powered by advanced technologies and software to ensure comprehensive security
He added that their products also allow easy access to performance indicators and datas related to device utilisation and can boost employee productivity by identifying paper intensive processes, meet sustainability initiative by redesigning the print infrastructure to improve overall power and carbon consumption.
"We then help you digitize by automating labour intensive workflows by capturing and managing content. Digitisation will lead to a high performing and more secure workplace and our products are cloud enabled to quickly adapt to future workforce requirements", he added.
The new Xerox smart printers is embedded with the capacity to scan, save and print documents directly to and from their online storages.
The machines can also translate documents into several languages including English, French, Spanish, Portuguese, Indian and German.