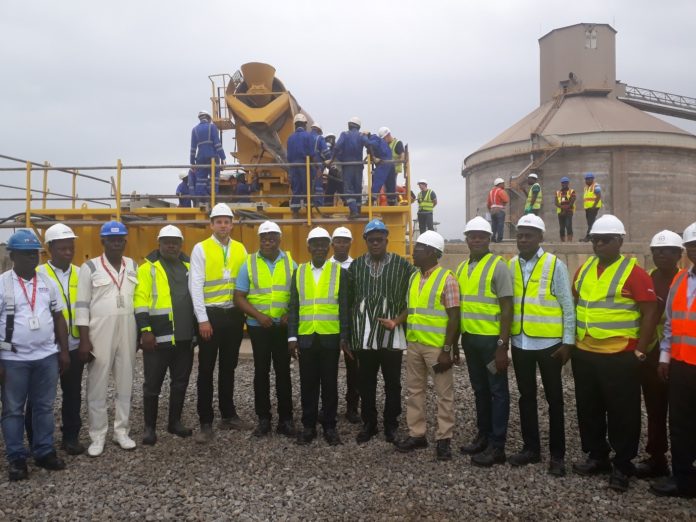 Casting the first block to signify commencement of constructing Ibistek/Ghana Ports and Harbour Authority's (GPHA) Multipurpose Container Terminal has been done at the Takoradi Port.
The project, with a total area of 53 hectares, will have a 790metre quay wall with 16metres depth on one side, and 900metres of quay wall with 14metres depth on the other side.
Also, the project's first phase – which is US$200million – will involve the construction of a 600metre quay wall with pavement alongside it, coupled with dredging beside it from 14metres and 16metres deep.
It is expected that the first phase of the project will be completed in 24 months. After completion, it will have a total berthing area of 1,690metres (790metres x 900metres).
Lawyer Kwame Gyan, Chairman of IBISTEK, in an interview with media explained that the project comprises two phases and the project financing is by IBISTEK.
"Ibistek is providing equity, which is 50% of the project cost of US$200million, and AFC Nigeria-based Multilateral is providing the debt component of the financing," he said.
"Already, US$200m has been secured for phase-one; and as we continue from phase-one to phase-two, we are talking of US$475m for the total project," he added.
He mentioned that under phase-two of the project, there will be an extension of key length from 600metres to 1,490 metres.
"After the completion of this multi-purpose terminal, it is expected that container numbers will increase; and revenue, employment, transit trade, cash in the pocket of the individual will be boosted," he said.
Capt. Ebenezer Afadzi, Director of the Takoradi Port said: "Takoradi Port has not seen much container traffic all these years; our average has been between 55,000 Twenty Foot Equivalent Units (TEUs) and 16,000 TEUs.
"With the coming-in of this project, we are hoping to compete with other ports in the West Africa sub-region as well as increase our revenue," he said.
Again, he mentioned that the project will offer 250 direct jobs to the locals as well as some indirect jobs, and urged consultants and contractors for the project to deliver on time, assuring that GPHA will fully support them in the execution of their duties.
Pascal Dumez, Project Manager of Jan De Nul Ghana Limited, said local contractors and suppliers will be involved in the project.
Ivar Schols, Supervision Leader of Royal HASKONING DHV (consultant of Atlantic Services), added that the company will monitor the contractors' progress and quality systems to ensure all specifications are met.