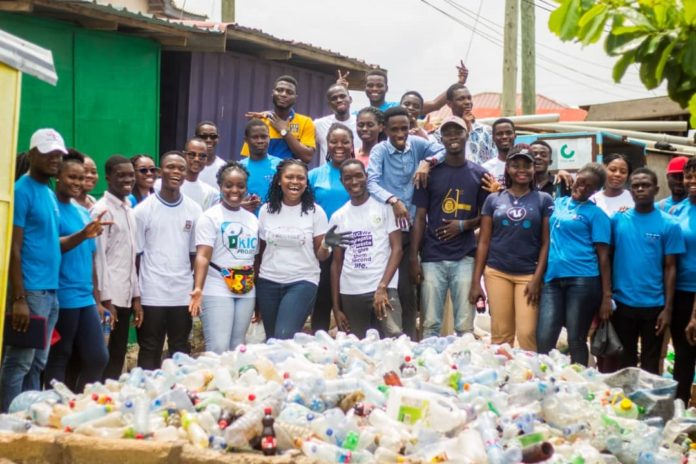 To encourage environmental conservation, especially plastic waste management, Voltic (GH) Limited (Voltic) together with the University of Ghana Plastic Recycling Project (UGPRP) and Coliba Ghana organised a community awareness and buy-back programme in Glefe, a suburb of Dansoman, to support the 2019 World Environment Day.
Starting the programme with door-to-door sensitisation on the uses of plastic waste, how it can be collected and the amount of money that can be generated from plastic, community members had a chance to get money for their collected plastic.
Voltic believes every package has value and life beyond its initial use, and should be collected and recycled into either a new package or another beneficial use.
It is unacceptable that packages end up in the wrong place, in our oceans and waterways, or littering the communities where we work and live.
Speaking at the event, the MD of Voltic, Francois Gazania, indicated: "We have a responsibility to help ensure our impact is a positive one and our actions inspire others to help generate solutions that leave our world better for generations to come. Voltic has over the past years engaged various stakeholders to create an ecosystem that drives collective sustainable action toward managing our post-consumer plastic".
The collaborative community engagement to mark World Environment Day was geared toward creating awareness on littering, and encourage segregation of plastic waste while demonstrating the value of plastic through the buy-back system. And this is a programme Voltic is going to champion every month in various communities across the country.
Prof. Appeaning Addo, Director of the Institute for Environment and Sanitation Studies, also indicated: "The University of Ghana (UG) is keen to play a leading role to address the plastic waste menace in the country and globally through the University of Ghana Plastic Recycling Project (UGPRP). The UGPRP, which is a student-led initiative under the Vice-Chancellor's Green Team, has set the pace in promoting waste segregation at source in the university community.
"With support from the Institute of Environmental and sanitation Studies (IES) and Environmental Services Unit of the university, there is steady progress toward institutionalising waste segregation at source to serve as a model for the country. We strongly believe that through collaborative efforts from all industry players along the waste management value chain, significant impact will be made as far as plastic waste management is concerned. The UGPRP is determined to employ initiatives like today's Waste Recovery and Awareness Exercise to propagate the need for promoting resource-use efficiency, sustainable consumption, and a circular economy in the country and beyond."
"At the end of the programme, Coliba Services bought over 1,000 kg of plastic. This plastic which would have ended in a dumpsite will now find its way back into the value chain, and that is what we are here for," added Prince Agbata of Coliba Services.
Voltic acknowledges that collaboration is critical to achieving its goal of collecting and recycling 100% of all bottles sold by 2030; as such, Voltic will continue to partner other organisations to find sustainable ways of helping improve the livelihoods of its customers, suppliers and employees while championing its '3Ws' – focused on Women empowerment, Water stewardship, and Waste management. The Voltic recycle programme, in association with Total Petroleum and Coliba as well as its active participation in the industry Coalition, GRIPE, testifies to Voltic's belief in partnerships for good.