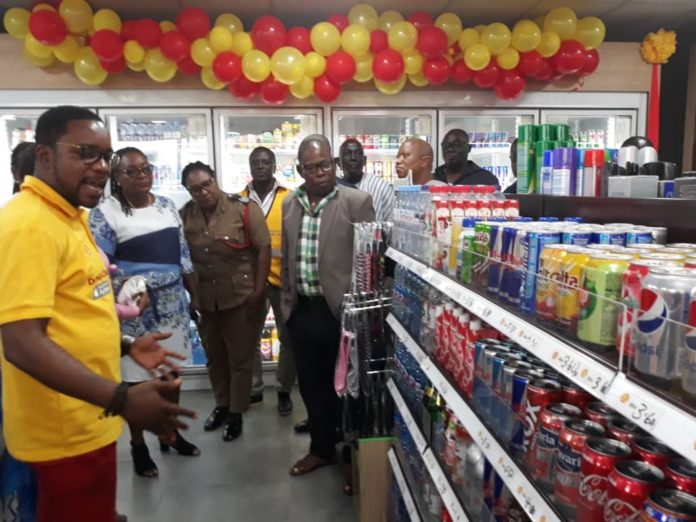 Vivo Energy, a marketer and distributor of Shell-branded products and services, has partnered with YAH, a frozen treat shop, to inaugurate their new shop format – the Shell SELECT Generation 5.
Located at the Odorkor West Shell service station, this new format is an enhancement of Shell's current formats, designed to create a distinctive look and feel in a warm, inviting environment for customers.
In his address, the Managing Director of Vivo Energy Ghana, Mr. Ben Hassan Ouatarra, said the opening is in line with the company's objective to continually lead the way in convenience retail offers, by introducing new products and services to stay meaningful and relevant to customers' changing needs.
He said the new Shell SELECT format is designed to serve various customer requests and to address their changing shopping needs.
"Customers who want to take a quick break; have a liquid boost with a soft drink or water; grab something to eat on the go; or do some top-up shopping are encouraged to turn to our new Shell SELECT store for a delightful experience. These new formats and offers are aimed at making our customers' journeys go well," added Mr. Ouattara.
Touching on the partnership with YAH, Mr. Ouattara noted that the partnership is aimed at giving customers exciting experiences by providing them with a delicious array of food and snack offers for a more relaxed, fruitful journey.
The Managing Director added that: "Customers who visit Shell sites trust the brand. They expect Shell server stations to cover all their needs on the move, and offer a complete retail experience under the brand they already trust".
He said Vivo Energy's business has strong health, safety, security and Environment (HSSE) standards at its core, and therefore urged the company's service stations and YAH staff to uphold these standards in every aspect of their operations.
He reassured motorists and shoppers that they remain the prime focus for the company's business.
On his part, the CEO of YAH, Richard Sakyi, said the opening brings the number of YAH restaurants at Shell's service stations to a total of four.
"With this awesome addition, our customers can now have the opportunity to grab their favourite Ice kenkey, fula, smoothies and lunch-packs on the go. All these offers are aimed at ensuring that we give our customers the best experience when they visit Shell service stations."
The partnership, which began two years ago according to Mr. Sakyi, has given the YAH brand more visibility in terms of product offerings, and "we believe that with time, as people come into any of the Shell shops, it becomes a one-stop place. This will cut off the stress of finding food to eat".
Although YAH is noted for frozen yoghurt and ice-cream, Mr. Sakyi revealed that meals ranging from noodles to chicken and tuna wraps, as well as fried rice, have been added to their list of services at Shell service stations.
He said: "Shell is giving consumers a total package to make sure that the whole idea of convenience becomes key in satisfying them".
The new branch of YAH brings the number to a total of seven outlets in Ghana.
About Shell
The Shell brand has had a strong presence in Ghana since 1928, and for over 90 years Ghanaians have associated Shell with quality, innovation and safety.
Vivo Energy Ghana currently has a total of 235 Shell service stations at strategic locations across the country, with the majority offering convenience retails stores, quick services restaurants (QSRs), tyre-centres and other services.
It also has the objective of expanding its retail network by bringing the Shell brand closer to customers and providing them with quality products and services.