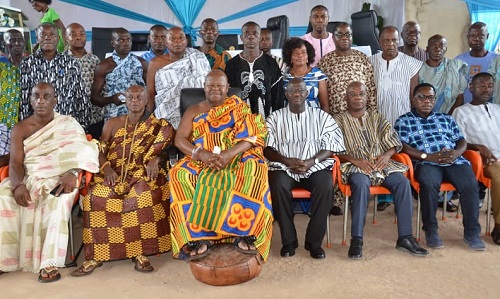 The Managing Director of ARB Apex Bank, Kojo Mattah, has commended the Upper Manya Kro Rural Bank (UMKRB) for its continuous success story in the area of micro-and small business schemes and urged other rural and community banks (RCBs) to emulate UMKRB's good example.
"I would like to commend the shareholders, directors and management of Upper Manya Kro Rural Bank for the modest but impressive gains for the 2018 financial year. Despite challenges in the sector, the bank made a modest profit before tax of GH¢1,059,798 for the year. We know that this type of result is only attainable under prudent management conditions," he added at UMKRB's 35th annual general meeting at Asesewa, Eastern Region.
He also advised industry players to desist from exposing their banks to big-ticket transactions which could have adverse effects on their balance sheets.
The bank recorded a 20 percent growth in total income from GH¢11.7million in 2017 to GH¢14.0million in 2018
Its profit after tax however dipped to GH¢0.929million in 2018 as compared to GH¢1.24million in 2017. The decrease represents a 25 percent fall in after-tax profit.
The bank's Board Chairman, James Kwame Otieku, noted that operations cost also went up 25.4 percent in 2018 compared to the 4.9 percent recorded in 2017.
He added that total assets grew 7.14 percent from GH¢48.6million in 2017 to GH¢52.1million in 2018, while income surplus saw an 8.6 percent growth from the previous year's GH¢2.99million to GH¢3.25million last year.
Additionally, total deposits recorded an 8.3 percent growth between 2017 and 2018 while total loan and overdraft disbursement in 2018 amounted to GH¢41.8million, representing an increase of 3.5 percent over the 2017 figure of GH¢40.4million.
Speaking at the bank's annual general meeting, the Chairman of the Board of Directors said:
"The board appreciates the efforts of management and staff in recording this year's modest growth, given the stiff competition in the deposit mobilization space over recent years," Mr. Otieku said.
He added: "Upper Manya Kro Rural Bank is a great organisation with a rich heritage spanning over 37 years. Our focus is to continue giving you excellence every step of the way and to deliver value for our shareholders and clients. That is why we have fine-tuned our craft for over 37 years, to bring you the best banking service in the sub-region".
According to him, the bank spent GH¢77,543 on corporate social responsibility, which goes to show its commitment to host communities: "Our bank is encouraged to improve the future of people in all communities as we operate through CSR programmes, which in turn will sustain their business in the future".