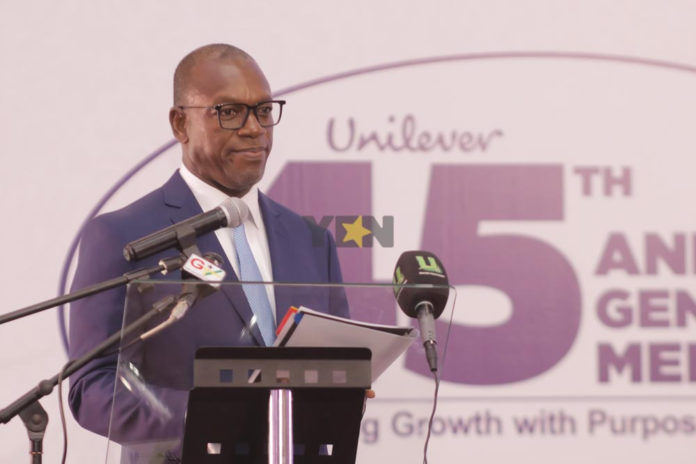 Unilever Ghana recorded an operating profit before tax of GH¢250million as at 31 December 2018, representing a 283 percent increase over the GH¢6 million realised in 2017.
The company's revenue increased from GH¢575million in 2017 to GH¢632million in 2018, representing a 10 percent increase – mostly due to increase in volumes sold during the year under review.
Unilever's total assets also saw a growth, from GH¢468,631 million in 2017 to GH¢726,490 million in 2018, representing a 55 percent increment.
Based on this impressive performance, the company is set to pay a dividend of GH¢0.80 per share from the 2018 profits, amounting to a total of GH¢50million.
Managing Director of Unilever, Ms. Gladys Amoah, speaking at the company's Annual General Meeting (AGM) noted that: "We were able to extend our coverage directly to cover 64,000 customers over the last year.             We further expanded our nationwide distributive footprint with sub-distributors, tricycle deployment, and the 'Shakti' model, route-to-market solutions that have allowed us to tap into the previously unexploited grey areas across the country".
This, she noted, has contributed strongly to the profitable and sustainable growth agenda of the company. She said over 110 youth have been employed through the Tricycle Salesman Deployment Project in Southern Ghana, and an additional 100 women have been empowered economically under the 'Shakti' programme in the North as well.
She added that Foods and Refreshment had an impressive volume recovery of over 20%, mainly driven through a price correction of Unilever's Lipton yellow label tea-bag in response to market conditions which increased rate of sale.
Ms. Amoah added that the company has made some significant strides through its efforts of extending support to Ghanaians on its Unilever Sustainable Living Plan (USLP) missions.
She said this initiative and others went unnoticed as the company chalked up over 12 awards to commend their effort. She noted that: "We are encouraged by the recognition our efforts have attracted from these prestigious awards institutions. It urges us to do more. We will stay committed to the production and distribution of products that meet the health and hygiene needs of Ghanaians".
On his part, the Chairman for Unilever, Edward Effah, stated that the company has proposed a dividend pay-out of GH¢0.80 per share from the 2018 profits, amounting to a total of GH¢50million.
The AGM saw the appointment and introduction of new members of the board. Mr. Effah announced the resignation of former Managing Director, Mr. Ziobeieton Yeo, and introduced Ms. Gladys Amoah, former Customer Development Director, as the new Managing Director, appointed on November 1, 2018.
Mr. Michael Ubeh was also introduced as the new Customer Development Director effective November 1, 2018. He has been with Unilever for the last 16 years, with experience spanning Customer Management, Customer Operations, and Customer Marketing.
Until his recent appointment, Mr. Ubeh was the Customer Development Director for Distributive Trade in Nigeria, and previously worked with the Customer Development Centre of Excellence Hindustan Unilever India, in the capacity of Customer Development Operations Manager.