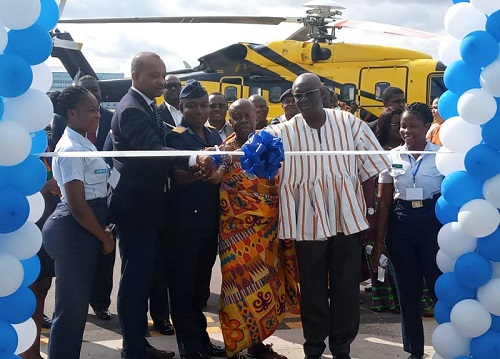 Tullow Ghana Limited and its partners have handed over a refurbished Airport Tarmac 'Apron' at the Takoradi Air Force Base to the Ghana Air Force as a contribution to development of infrastructure in Ghana.
The Apron is situated in Takoradi, the main operational base supporting the Jubilee and TEN offshore operations. The Apron provides safe and secure landing area for air travel between Accra and Takoradi, not only for Tullow but also for commercial planes.
The occasion also coincided with the inauguration of new Tullow offices in Takoradi.
Mr. Kweku Awortwi, Managing Director and Executive Vice President of Tullow Ghana, at the project's inauguration explained that since the company starting operation in the country, it has acquired facilities from Ghana Air Force for its operations.
He said, previously, Tullow Ghana shared the commercial Airport terminal and aircraft apron in front of the terminal with the Airforce Base, and other oil and gas as well as commercial fixed-wing operations.
He pointed out: "This is to help ease congestion with expansions in Tullow's operations and to ensure safety and sustainability; the company acquired the old Airforce offices and briefing rooms and converted them into a multi- purpose terminal for helicopters and fixed wing operations of Tullow.
"The Takoradi Airport Tarmac required a nine-month reconstruction of an area 22,692 square metres of wide ranging excavations, and the rehabilitation of almost 5,000 square metres of roads approximating US$2.3million in cost," he said.
The project, according him, has been made possible with the support of Tullow Ghana and its partners – including Kosmos and Anadarko West Cape Three Point (WCTP) Company, as well as the Ghana National Petroleum Corporation (GNPC) and Petro SA.
Mr. Kofi Adah, Minister of Aviation, commended Tullow and its partners for their contribution to improving development in the Western Region and the aviation industry.
"The operations of offshore Jubilee and TEN fields have been key in repositioning the Western Region, demanding an expansion in infrastructure to meet growing demand; hence, making it more accessible to stakeholders and businesses," he said.
He said providing a refurbished Apron will not only support larger commercial airplanes, but also accommodate increased number of flights to and from Takoradi as well as guarantee safety for the traveling public.
Mr. David Nyante, Takoradi Area Manager of Tullow Ghana Limited, said this year marks 12 years of the company's operation in Ghana.
He said inaugurating the new state of the art office complex is to encourage better collaboration and support a more productive working environment.
"It is a great project that provides the foundation for Tullow's commitment to leave the legacy of an improved infrastructure base for Ghana," he said.
Mrs. Gifty Eugenia Kusi, Deputy Western Regional Minister said: "Today's handing-over is a testament to the commitment of Tullow and its partners, through the pillar of shared infrastructure, to support government stakeholders on projects that benefit not only the partners but also the government of Ghana".