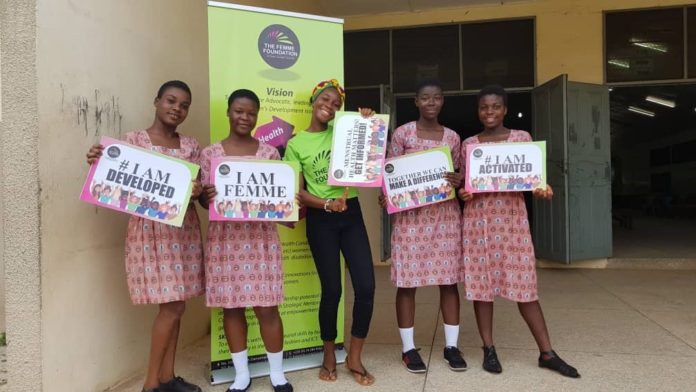 The Femme Foundation, an Accra-based NGO, has held a forum to highlight the importance of menstrual hygiene management and reproductive health issues among young girls, for students of the West Africa Senior High School in Accra.
The essence of the workshop was to teach the girls to take care of their bodies, fight any stigma associated with menstruation, and help them stay healthy and confident at all times.
About 10 teachers and 250 students attended the forum.
Speaking at the forum, Dr. Fred Twenoboah – an obstetric gynaecologist at the Greater Accra Regional Hospital, stated that there is need for early and constant education on menstrual disorders and its associated problems, since this can help address menstrual disorders efficiently.
He said it is better to use the primary preventive methods to treat such problems, rather than patients waiting for their circumstances to worsen and resort to secondary preventive methods.
Treatment for dysmenorrhea (painful periods) include applying a heated pad to the abdomen, taking nonsteroidal anti-inflammatory medications, as well as hormone supplements, tranquilisers, vitamin or mineral supplements, dietary modifications, antidepressants and regular exercise.
Mr. Tweneboah commended The Femme Foundation for the good initiative and opportunity given to the students to learn and educate themselves on the need to maintain good personal hygiene.
He said: "This is one of the best opportunities that has been given to the girls. It is to educate the young ones to know that if they menstruate and they don't keep up good personal hygiene, they will be pre-disposed to certain diseases which will harm them in future".
He also advocated the need to partner with the Ghana Education Service (GES) on issues such as menstrual hygiene.
"We pray for more organisations to join the GES and help give quality education to every child. Without effective stakeholder support, it will be practically impossible to give quality education to every child regardless of their sex, age, physical condition, location and economic background," he said.
"No one agency, be it the GES or whichever, can effectively tackle the rising cases of issues facing young girls, and reproductive health issues which affect society as a whole," he added.
On her part, Ms. Mame Kweiki Dsane – the Assistant Head of Academics at the West African Senior High School, expressed gratitude to the foundation for the forum.
She however appealed to other governmental and non-governmental organisations to emulate The Femme Foundation's gesture and come up with more fora to sustain education on menstrual hygiene.
The Femme Foundation is a Ghanaian-based women's health and development organisation, founded and registered this year. It is committed to helping girls and women facing menstrual and reproductive health issues, and also developing girls through training and capacity building.
It executes its women's development vision through health, innovation, leadership and equipping with skills.