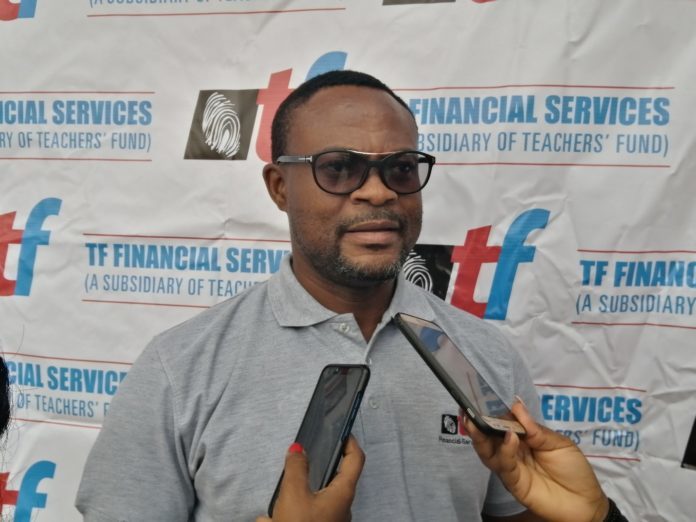 TF Financial Services Limited, a subsidiary of the Teacher's Fund, has organised a Free Health Screening exercise to promote a healthy lifestyle amongst its customers, staff and community members.
As part of its Customer Service Week celebrations, the exercise was also aimed at engaging customers and community members to build a stronger relationship and to expose customers to available services and products offered by TF Financial Services.
People present had the opportunity to check their body mass index measurements, blood pressure checks, glucose level measurements, prostate specific antigen and checking for typhoid fever.
Dubbed: "Every Experience Counts", the Business Development Manager of TFFS, Mr. Etornam Yaw Beddy noted that the organisation acknowledges the importance of customer service and therefore set aside the customer service week to engage its customers and partners.
Other activities held to commemorate the Customer Service Week include 'Career Day', 'Rep your Team', 'African Wear Day' and 'Fun time Day'.
Mr. Beddy added that: "Keeping a customer is cheaper than acquiring a new one. For every organization, building customer loyalty is a constant goal. It makes sense when you think about the fact that it costs five times as much to attract a new customer than to keep an existing one".
He said: "TF Financial Services acknowledges the importance of customers and use all the tools at its disposal to nurture its current customers. The paramount among these tools is TF Financial Services Customer Service Week Celebration"
On her part, Madam Mawunyo Nutsi, the Customer Service Manager of TFFS, said: "It is more convenient to keep a customer than acquiring a new one, hence the need to satisfy our existing customers and maintain the business relationship."
She added that: "Good service is magical and it could turn an unhappy customer to a satisfied long-term customer and that is what we are poised to do here at TF Financial Services.
TF Financial commenced its operations in September 2008 and has, over the years, witnessed a steady growth in its operations. The company currently has a network of three branches and over 20 outlets across all regions of Ghana.
It is one of the fastest growing retail finance companies in Ghana and was awarded with the best Finance Product for the year, 2018 by the Ghana Accountancy and Finance Awards.
The company also stands as one of the strongest NBFls in the country with a stated capital of GHC20 million which exceeds the Bank of Ghana's expected GHC 15 million requirement.