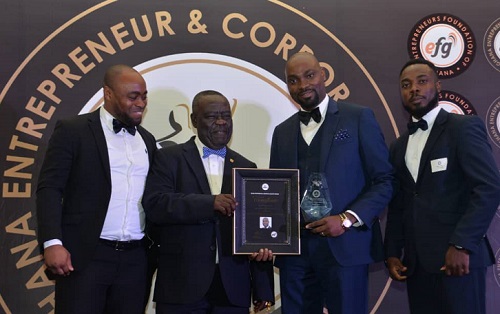 Tech entrepreneur, Founder and Chief Executive Officer of Teksol, Louis Amenyo Adanuty, has been honoured with the "Outstanding Software Development Entrepreneur of the Year 2018" at the 9th edition of the Ghana Entrepreneur and Corporate Executive Awards, held at Mövenpick Ambassador Hotel over the weekend in Accra.
He was recognized for his sterling contribution to the development of the country's IT space, his wealth of experience and prudent corporate governance practices that have positioned Teksol among the rapidly growing technology companies in Africa.
The Ghana Entrepreneur and Corporate Executive Awards (GECEA), is organized by the Entrepreneurs Foundation of Ghana (EFG) to recognize and appreciate business leaders who have demonstrated exceptional leadership and have contributed in diverse ways towards the growth of the private sector and the national economy at large.
This year's edition is on the theme: "Promoting United Nation's Sustainable Development Goals through Private and Public Sector Partnership".
Louis Amenyo who has twelve years' experience in the technology industry and software engineering, system analysis and design and consulting, is the driving force behind the success of Teksol Ltd. and continues to create and maintain the business focus of the organization.
He started Teksol in the year 2009 whilst studying for his bachelor's degree in information technology.
Over the years, he has consulted for renowned international organizations such as the World Bank Group in Washington, USA and has vast experience in management.
He has also led several successful projects and has implemented systems for over forty companies including banks, investment firms and pension funds.
The TekSol boss holds an MBA in Finance from GIMPA Business School and a Bachelor of Science Degree in Information and Communication Technology from Ghana Institute of Management and Public Administration (GIMPSs) School of Technology.
TekSol is a rapidly growing technology company focused on innovating and delivering software solutions that enhance business performance and flexibility by leveraging the simplicity and power of latest internet and mobile technologies.
The company derives strength and expertise from its highly skilled, experienced and committed team of software application consultants and software developers who have multi-year hands-on experience and in-depth knowledge in software programming.
It is currently the largest provider of investment and fund management software on the market.
TekSol provides core banking application and payment integration channels for banks, savings and loans, Rural and community banks credit unions and microfinance institutions.
The company has contributed towards the growth of financial institutions in the country over the past 10 years by providing innovative technologies to enable them provide excellent services and promotion of financial inclusion.
The company is ranked on the prestigious Ghana Club 100 award and has recently started operations in Rwanda and Cameroon.