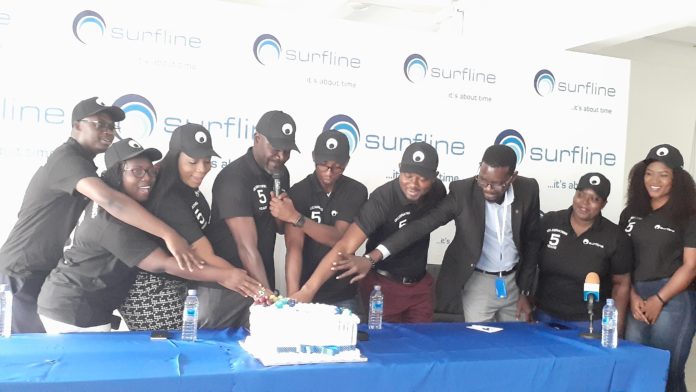 Surfline Communications, Ghana's premier 4G LTE Internet service provider, has introduced new client convenient services as it celebrates its fifth anniversary in Accra.
To ensure a satisfactory customer experience, Surfline has launched Extra Time Offer (ETO) which gives free one gigabyte (1GB) of data for clients to complete their online activities whenever they run out of main data. The ETO is available to all subscribers on the Surplus all weather bundle package who purchase any of the bundles with a validity of 30 days and above.
Surfline has also widened its distribution channels through some select shell shops across the country, in addition to its distribution outlets and Surfline shops, to enable existing customers and prospects to purchase their new Surfline 4G LTE devices and top-up their accounts.
Chief Executive Officer-Surfline, Rene Gameli-Kwame, speaking at the media launch of the company's 5th anniversary indicated that Surfline will be expanding to new coverage areas, especially the regional capitals, to bring affordable high-speed 4G LTE Internet services to Ghanaians.
"As we take the time to express our gratitude for a fantastic year gone by, we turn expectantly to the year that lies ahead. We assure customers of services that are required of a true 4G LTE, a service they can trust in their homes, offices and on their commute."
Touching on the company's corporate social responsibility agenda, he stated that 2018 half-year statistics indicated that 6,745, road crashes occurred – out of which 1,212 fatalities were recorded, which shows that an urgent need to support the road safety campaign to save lives cannot be over-emphasised.
"On our 5th anniversary, we choose to focus on road safety as our main campaign-driver for this year. Surfline and the National Road Safety Commission (NRSC) will visit selected stations in Accra to sensitise drivers about the need to stay safe on the roads," he said
Greater Accra Regional Planning Officer, NRSC, Victor Bilson, speaking at the launch said road safety is a shared and collective responsibility which requires both government and private sector must join hands to achieve. He therefore encouraged the staff to put in their best efforts to make the campaign a success.
Surfline was the first 4G LTE business to launch in Ghana, with the single largest deployment of sites in sub-Saharan Africa. It has expanded to over 100 areas in Accra, Tema, Kasoa and its environs, as well as some parts of Takoradi in the Western Region.