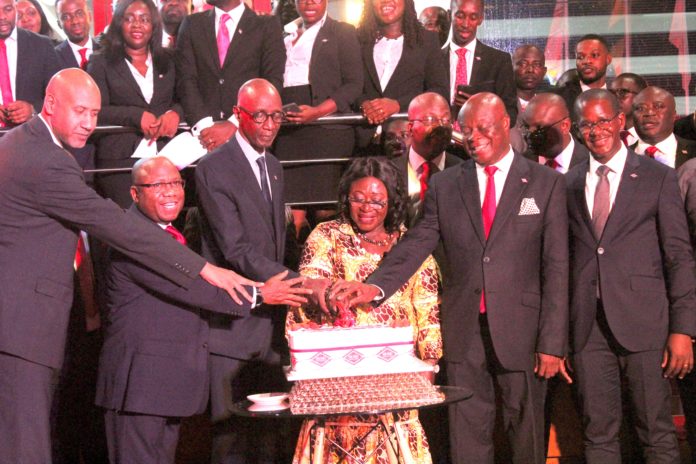 Sunu Assurance Ghana Limited, a strategic member of the SUNU Group – the Pan African Insurance Group operating in 14 African countries with 24 subsidiaries – inaugurated its corporate edifice that was fully funded from the Ghanaian company's coffers last week Friday.
The Chief of Staff, Madam Frema Opare, pointed out that she was privileged to witness a stunning rebranding of an enterprising company from Equity Assurance to SUNU Assurance Ghana Limited as a global icon in insurance. She said that a year on she is there to witness the inauguration of an edifice designed to endear itself to staff and clients.
She was particularly excited about this achievement at a time the financial sector is undergoing a vigorous clean-up. Importantly, government has keenly followed the strides made by the National Insurance Commission (NIC) – particularly the reforms leading to recapitalisation of the insurance sector by June, 2021.
"This is relevant to increasing capacity of the insurance companies to underwrite large risks; improving corporate governance; and increasing the penetration rate in the economy," the Chief of Staff pointed out. It is our expectation that insurance companies in Ghana will ultimately ascend into the commanding heights of both Ghana's and West Africa's economies.
The Founder and Chairman of SUNU Group, Mr. Path  Dione, assured of the company's readiness to meet the new minimum capital requirement set by the National Insurance Commission.
The Managing Director–SUNU Assurance Ghana, Prince Adeyemi Adetuwo, noted that the company has been operating for the past 11 years – during which it has grown to be among the top-10 insurance companies in the country in terms of gross premium income.
He noted that the month of November is synonymous with SUNU Ghana, "because last year the company rebranded from Equity to SUNU, and this year Ghana is not only hosting the Group Office Annual Meeting but we are also witnessing the inauguration of our ultra-modern new corporate head office building.
"Permit me to say that the month of November is very significant in the life of this company. In this challenging economic period when some companies in the financial sector are closing down, we find ourselves being lifted up. This is the Lord's doing, and it is marvelous in our eyes," the Managing Director emphasised.
He said the property was acquired about four years ago and was originally a one-storey building, "but because we are expanding and we felt we needed a more spacious and befitting corporate office, we decided to add another floor on top".