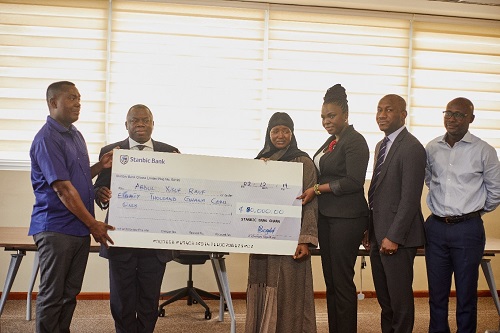 Management and staff of Stanbic Bank Ghana have donated a total of GH¢80,000 toward the treatment of a customer's 11-week old baby suffering a congenital heart disease.
The decision to donate was inspired by a customer, Mariah Sulemana, who applied for a GH¢30,000 loan to seek urgent medical attention for her critically ill son, Abdul Yusuf Rauf. However, the amount requested and granted by the bank could barely cover 20% of the total treatment cost, which is estimated to be US$27,000.
To help save the baby's life under #StanbicCares initiative, staff came together and contributed an amount of GH¢40,000 which management doubled to GH¢80,000.
Speaking at a brief presentation ceremony at the bank's head office in Accra, the Chief Executive of Stanbic Bank Ghana, Mr. Alhassan Andani, indicated that the interests of its customers is paramount to the bank, hence the gesture.
"We don't care because we have any direct interest in doing so; it is because it is the right thing to do, and this is about our own.
"We ask you to be strong and to know that you are not in this alone. You are in this with all of the staff and shareholders of Standard Bank," he noted.
The baby, Abdul Yusuf Rauf is urgently in need of a two-stage procedure to save his life. The first one – a Balloon Atrial Septostomy – entails creating a channel in one of the internal walls of the heart to improve oxygenation. The second stage, called an Arterial Switch Operation, is the open-heart operation that switches the blood vessels to where they ought to be.
Both procedures cannot be routinely performed in the country and require over US$27,000 to be carried out.
Head of Marketing and Communication, Mawuko Afadzinu, also indicated that the act of 'staff-giving' remains a major element of the bank's identity as a socially responsive institution.
He said: "We are doing this because we are a bank that cares, and such staff-led community engagement initiatives add to our social capital and goodwill, because they directly impact the lives of customers and communities."
The overwhelmed mother who received the donation on behalf of her baby expressed her heartfelt gratitude to staff and management of the bank for extending help to her suffering child, who was diagnosed with the condition barely a week after being born. She prayed that God rewards and helps them in their time of need, just as they have done for her and her child.