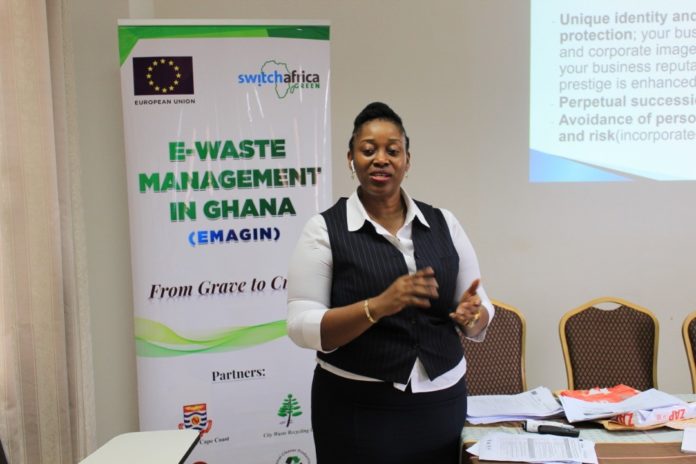 As part of the work plan for a European Union-funded project on electronic waste management in Ghana (E-MAGIN), intensive two-day cross-regional workshops have been organised for a wide spectrum of stakeholders in the e-waste sector of Ghana.
The project was essentially undertaken to regularise and reduce the disastrous environmental and social impacts of current e-waste management practices and promote sustainable consumption patterns in Ghana.
The workshops on formalisation were organised in Accra, Kumasi, Tamale and Takoradi. The programme focused on educating Micro, Small and Medium Enterprise (MSMEs) owners and workers in the e-waste sector on requirements needed by the various regulatory bodies before they can formalise their businesses and associations.
The participants numbered about 160 and were mainly drawn from core executives of: Ghana Electronics Servicing Technicians Association (GESTA); Scrap Dealers Association; National Air-conditioning Refrigeration Workshop Owners Association (NARWOA); Mobile Phone Repairers – Accra, Koforidua, Ho, Aflao, Sunyani, Kumasi, Tamale, Cape Coast, Takoradi, and Tarkwa.
Experts from the Registrar Generals' Department; Environmental Protection Agency; and Metropolitan, Municipal and District Assemblies were present as facilitators to help train the participants how to fill-in the requisite forms needed to complete formalisation processes.
Specifically, trainers from the Environmental Protection Agency took the participants through the challenges of formalisation – stressing compliance with occupational health and safety, infrastructure etc. In addition, the facilitator from the Registrar Generals' Department took participants through registration processes and procedures needed for the formalisation of businesses. They highlighted business registration procedures, sole proprietorship, and company limited by guarantee (for the associations). The participants were then taken through the importance of registering their businesses and the requirements for Act 992.
To increase productivity and efficiency in their e-waste businesses, all the executives of associations from various regions who attended the workshops pledged to work together – and even went ahead to sign a memorandum of understanding to collaborate with each other to share information on opportunities and find viable solutions for their challenges.