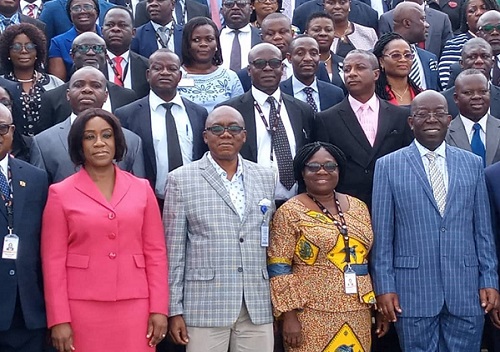 The Social Security and National Insurance Trust (SSNIT) has paid GH¢1.7billion to over 200,000 pensioners on the pension payroll as at July 2019.
This figure is expected to increase to about GH¢3billion by end of the year, according to Dr. John Ofori Tenkorang, Director General of SSNIT.
He said in the wake of increasing benefits payment, there is need for the Trust to collect every cedi in arrears – adding that "with the increasing pensioner wage bill, there is a need to adopt innovative strategies that increase contributions collection while reducing operational cost and other expenses in order to sustain the scheme.
"If we were able to reduce the average benefits-processing from 21 days in 2018 to the current 17 days as at the end of July this year, I believe with the right strategies and commitment we can increase contributions collection to accommodate the increasing benefits pay outs."
Dr. Tenkorang was speaking at the opening of SSNIT operations' annual conference at Elmina in the Central Region, on the theme 'Effective compliance enforcement and accurate payment of benefits: A recipe for sustainability of the scheme'.
The three-day conference was for members of the executive, departmental heads and area branch managers of the Trust to discuss topical issues, review performance, proffer solutions and refine or come up with new operational policies which will ensure growth and sustenance of the SSNIT Scheme.
He mentioned that the new establishments registered between January and June 2019 was 106.9% of the target for the period, and this has led to an increase in the number of establishments paying contributions from 67,101 to 68,010.
"Let me emphasise that an increase in number of establishments registered alone does not mean much to the scheme without a corresponding increase in worker registration," he said.
He pointed out that the Trust will no longer pay the 25% optional Lump-Sum to pensioners from January 2020: "The ten-year transition period for the National Pensions Act 766 will end in December this year.
"The last group of contributors qualifying to receive pensions under the PNDCL247 will be retiring by December 31, 2019; this means that from January 2020, all workers who turn 60 years will receive their benefits proceeds under the National Pension Act, Act 766. Consequently, the Trust will cease payment of the 25% optional Lump-Sum payment. The Trust will, however, pay past credit to members who had contributed to the scheme prior to January 2010," he added.
Mrs. Laurette Korkor Otchere, Deputy Director-General, Operations and Benefits, indicated that high compliance is paramount for smooth operations in a defined benefit scheme.
"One of the ways to ensure this is to intensify regular inspections of employers' records. This will help in covering every eligible worker under the First-Tier scheme, as well as help in early detection of employers' actual indebtedness," she said.
She noted that early determination of arrears and prompt prosecution will prevent arrears accumulation: "We have had some judgements in our favour, but execution has been difficult because the establishments do not have properties to offset the indebtedness; you must know your employers to be able to quickly identify an establishment in distress," she said.
She announced that the Trust will soon publish the names of highly indebted companies and their directors in the print media and in SSNIT website. "This will remind employers of their obligations to their employees and the Pension Scheme."
She added that the Trust will be embarking on a massive registration exercise to rope-in more workers: "As leaders of the Operations division, we must embark on an aggressive expansion drive to improve social security coverage beyond the estimated 10 percent of economically active population in sub-Saharan Africa that is covered by statutory social security schemes," she stated.
Mrs. Otchere said there is need for management and staff of the Trust to engage people in the informal sector, and get them to appreciate the social security scheme and voluntarily contribute toward retirement.
"Although we have made significant progress, there is need for more work to be done; be transformational leaders, provide a result-base and become game changers," she added.