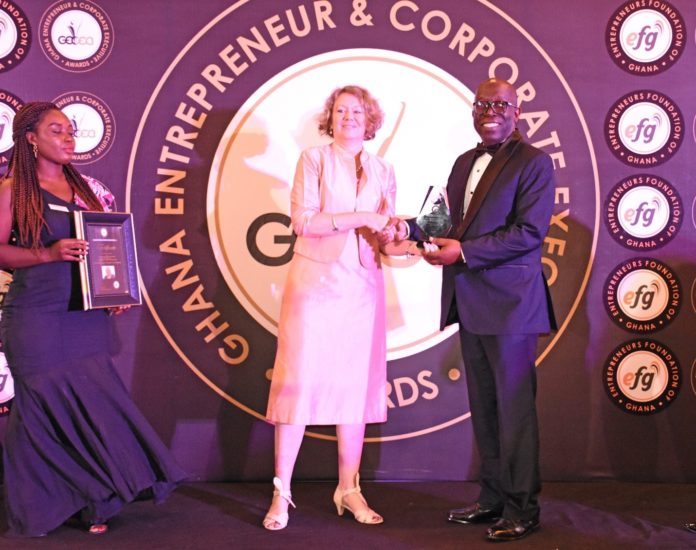 The Director-General of the Social Security and National Insurance Trust (SSNIT), Dr. John Ofori-Tenkorang, has been recognised as the outstanding Director-General of the year 2018 at the 9th Ghana Entrepreneur & Corporate Executive Awards 2019 held at the Movenpick Ambassador Hotel in Accra on Saturday.
Dr. John Ofori-Tenkorang dedicated his award to the Board of Trustees, Management and Staff of the Trust for "continuously and tirelessly contributing to the efficient management of the SSNIT Scheme. I believe that their contributions have led to the gains we have made, such as reducing benefits-processing time from 30 days to 19 days and a re-negotiation of agreements on some ICT infrastructure, support and licence fees, which has resulted in savings of US8.52million to the Trust," he stated in an interview with the media after his award.
A total of GH¢2.5billion in benefits payments was paid to pensioners in 2018 as compared GH¢2.2billion in 2017. Despite this increase in the pensioners' payroll, the Trust has never delayed in benefits payments, he said.
He added that the Trust has created a customer-friendly environment for members of the Trust, especially the pensioners, with its institution of the pensioners' priority desk; and provided access ramps and wheelchairs at SSNIT offices for pensioners with mobility challenges.
The award is in recognition of Dr. Ofori-Tenkorang's visionary and strategic leadership and corporate excellence, which has entrenched the Trust's leadership role in management of the national basic pension scheme and increasing its fortunes as the largest non-bank financial institution.
Dr. John Ofori Tenkorang was among the many other corporate executives recognised at the event.
Ghana Entrepreneur and Corporate Executive Awards
The Ghana Entrepreneur and Corporate Executive Awards (GECEA) is organised by the Entrepreneurs Foundation of Ghana (EFG).
This year's award is under the theme 'Promoting United Nation's Sustainable Development Goals through Private and Public Sector Partnership', and is aimed at recognising and celebrating corporate business executives and entrepreneurs who have managed successful public and private organisations within the year 2018.
The Awards also honoured emerging business leaders who have demonstrated exceptional leadership and have contributed in diverse ways toward growth of the private sector and Ghana's economy at large.
Among the distinguished guests were the Minister of Business Development, Dr Ibrahim Mohammed Awal; the Deputy Minister of Trade & Industry, Robert Ahomka-Lindsay; and members of the Diplomatic Corps and business & corporate leaders.
Profile
Dr. John Ofori-Tenkorang is a seasoned Investment Banker, Engineer and Academic.
He is Director-General of the Social Security and National Insurance Trust (SSNIT).
Dr. Ofori-Tenkorang was ranked third-best Chief Executive Officer (CEO) of State-Owned Enterprises in the 2018 survey conducted by FAKS Investigative Services held in Accra.