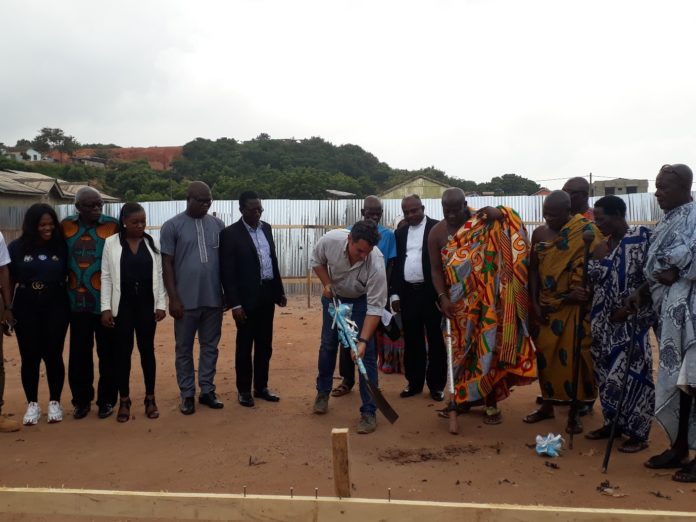 MYTILINEOS has cut the sod for construction of a 640 square foot community market complex with sanitary and water facilities for the Aboadze community in the Shama district of the Western Region.
The facility, which will cost GH¢150,000 is expected to be completed by October this year.
Mawuli Asempa, Operations Manager MYTILINEOS, during the sod-cutting ceremony at Aboadze explained that the market when completed will support the local community in their socio-economic development, and have a direct impact on the sustainable development goal of eradicating poverty, reducing gender inequality and promoting decent work and economic growth.
"The UN 2030 agenda for Sustainable Development Goals (SDGs) that seek to eradicate poverty by addressing the pervasive inequalities in incomes and economic opportunities between and within countries, between rural and urban areas as well as between men and woman, has been the roadmap of initiatives MYTILINEOS undertake worldwide" he said.
In Ghana, he said, the company seeks to promote a people-centred approach to poverty eradication, economic and social life – especially for the most vulnerable groups in society.
"The goodwill and manpower derived from the indigenes enthused management of the company in considering this project, as a way of giving back to the community of Aboadze as part of our corporate social responsibility this year," he said.
Joseph Amoah, District Chief Executive for Shama, said the market will add vibrancy and functionality to the Aboadze community and the entire district.
"It will enhance our access to healthy foods as well as several other items that make our lives a lot more comfortable, and stimulate commercial and residential activities for Aboadze and surrounding communities," he said.
Also, he said, the district's economy will experience a significant surge upon completion and commencement of operations: "The economic position of our women in particular will be transformed, thus enhancing their individual capacities to complement the men in their various endeavours of life.
"When completed, local businesses in Aboadze and nearby communities, our farmers, vendors and youth will be provided with space to sell their products and services, as well as serve as a reliable source of livelihood for some of the youth," he added.
He thanked the management of MYTILINEOS for taking the necessary steps to undertake this project for the benefit of people in Aboadze and its surrounding communities.
Nana Kobina Attom III, Chief of Aboadze, urged the market women who will be trading to keep the market clean and tidy at all times.
"The use of coal-pots should be avoided, since those who use them forget to quench the fire – which thus leads to outbreaks of fire at the market," he said.
He urged the contractor who will be executing the project to use good building materials during construction, and expressed appreciation to the company for such an initiative.
MYTILINEOS is the company in charge of the construction of a 250MW fast-track Power Plant at Aboadze.