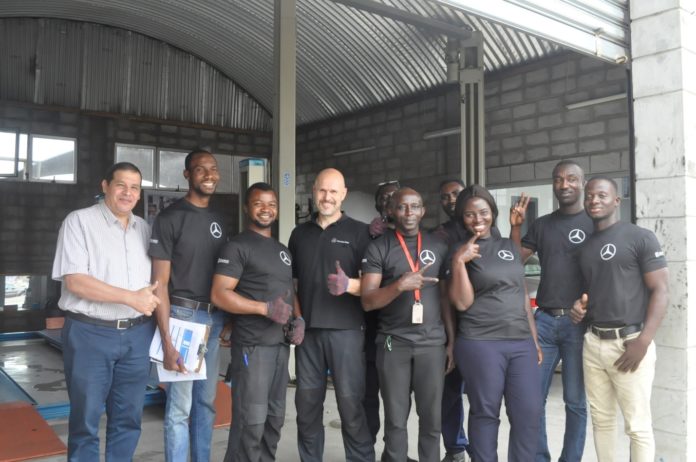 Automobile dealer Silver Star Auto Ltd (SSAL) is organising a week-long free inspection of its flagship Mercedes-Benz for its customers and the general public at its branches across the country.
The event, according to the company, aims at boosting after-sales service by ensuring the safe use of Mercedes-Benz vehicles.
A German expert from Mercedes-Benz-Daimler, Markus Fecht, is being hosted by SSAL to engage Mercedes-Benz users on free inspections and checking safety features of the vehicle, such as the braking systems, airbags, seat-belts, steering etc.
Mr. Ahmed Farouk, General Manager – After-Sales of SSAL, informed that the service week is being organised in collaboration with Mercedes-Benz-Daimler, Germany, to examine Mercedes-Benz vehicles for customers to ensure they are safe to use. "This, we believe, will strengthen our relationship with customers by giving them free advice on their vehicles as well.
"The German expert is here to provide on the job training and to update our team of technicians on new information and service tips with regard to Mercedes-Benz vehicles," he said, adding that customers are engaged during the process of diagnosing so they can learn much about their own vehicles.
On his part, the Chief Executive Officer of SSAL-Mr. Asad Nazir, thanked Mercedes-Benz customers for keeping faith with SSAL as their trusted Mercedes-Benz dealer. He expressed optimism that at the end of the service week, the safety aspect of their Mercedes-Benz vehicles will be boosted for a safe driving experience.
He however cautioned them to be wary of unauthorised workshops and visit SSAL branches across the country for genuine spare-parts and service – stressing that visiting unauthorised workshops denies customers warranty claims for their vehicles, and they also stand the risk of damaging their vehicles.
Also present to host customers who were at the Graphic Road branch of SSAL was Mr. Francis Johnny Amegayibor, General Manager-Sales, Passenger Cars, who reminded the Mercedes-Benz customers not to tamper with the electronic features in their vehicles but consult SSAL on any unknown development, as the company invests in giving customers good value for their money.
The service week began in earnest at the Tema workshop of SSAL on Monday, where Mercedes-Benz customers/users took turns to get their vehicles diagnosed for free. Mr. Lawrence Awuye, a customer, could not hide his joy and express gratitude to Silver Star Auto as the only automobile dealer that invests in proper after-sales services with its annual Mercedes-Benz Service Week. "This is the 5th time I have taken part in this free service programme, and I believe it provides the opportunity for further diagnosis of my vehicle. The session has been interactive and engaging, which has allowed me to know my car better."
As part of the free inspection, customers who wish to service their Mercedes-Benz vehicles with SSAL after diagnoses are being given a 15% discount on genuine spare-parts and labour.