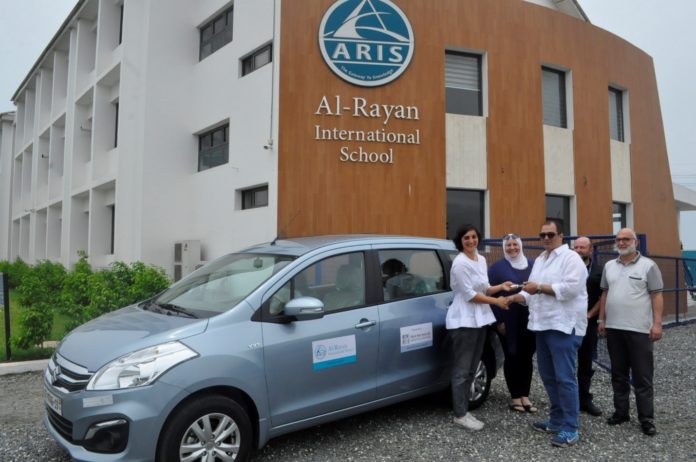 Silver Star Auto Ltd (SSAL) as part of its Corporate Social Responsibility (CSR) has donated brand new Suzuki Ertiga vehicle to Al-Rayan International School (ARIS).
The presentation of the vehicle according to the automobile dealer is in fulfillment of its pledge to extend its CSR activities towards supporting the educational sector and to support ARIS as it celebrates its 15th Anniversary.
Al-Rayan International School located at East Legon was established in September 2003 with a mission of providing world-class standards in education. The school combines inclusive admission policy with internationally oriented curricula as an ideal framework for achieving all-around excellence.
Top Executives of SSAL led by Mr. Nouhad Kalmoni, the Executive Director were present at the premises of the school to hand over the vehicle. Also present to receive the vehicle were top Executives of the School including: Dr. Fatma Odaymat, the School's Director; Haj Safwan Wolley, Board Chairman; Mr. Abdallah Toutoungi, Financial Controller and Mrs. Dayna Toutoungi, In charge of Admission and Communication.
In his presentational remarks, Mr. Nouhad Kalmoni expressed the company's delight to join students and management of ARIS to mark its 15 years of quality education. "As a company that is passionate about service, the decision to support ARIS through our CSR initiatives was because we can see how passionate they are about teaching and learning".
Mr. Kalmoni observed Education as key for national development as such the need to give adequate support to the sector. He congratulated ARIS for the anniversary and hoped the vehicle will be of immense benefit to the school as it continue to nurture responsible future leaders.
Director of ARIS, Dr. Fatma Odaymat in an interview with the media recalled the numerous support the school has received from Silver Star Auto which has enabled the execution of many projects. "As a school we believe such collaboration with the corporate world has supported our learning and we say a big thank you to Silver Star for this gesture"
Dr. Odaymat announced the school will be presenting its vision for 2025 as part of activities earmarked for the 15th Anniversary celebration. What is seeks to achieve include: Personalized learning in ensuring that every student has special learning experience and the passion and skill to move to the next level; Staff Development which will see the setting up of a Teacher Training academy to offer international program for teacher accreditation; Students and Staff wellbeing and the School advancement project which entails a big construction project which will move the school to around 1,200 students in addition to an auditorium theatre and conference centre.