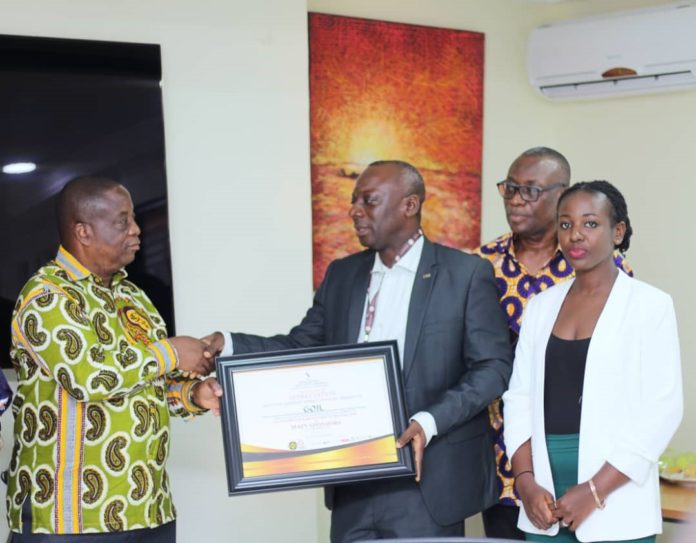 The National Road Safety Commission and the organisers of the Ghana Driver and Road Safety Awards (GDRSA), have paid a courtesy call on officials of oil giant GOIL and GHACEM as part of the 5th UN Global Road Safety Awareness Week.
The courtesy call was made to support the two companies for initiating efforts to help educate drivers and reduce road accidents in the country.
The Group Chief Executive Officer and Managing Director of GOIL, Mr. Patrick Akorli, also lauded efforts of the organiser and urged drivers to drive passengers safely to their various destinations.
The Finance Director of Ghacem,Mr  Dominik Michel who stood in for the Managing Director, said Ghacem was very happy to be part of this great initiative, and that its record of supporting Road Safety spans over a decade
Mr. Michel  said this year will be no exception, as Ghacem is committed and will be part of this year's Ghana Driver and Road Safety Awards, because it will ensure safety on our roads and save lives.
Moses Osei, who emerged as winner of a brand-new Suzuki Alto vehicle last year, thanked the organiser for how fair the process is and for putting such an initiative on board, and urged his fellow drivers to take part in this training so that accidents on our road will reduce.
Florence Marfo, a VIP bus driver who won the Best Driver, Intercity Category last year, urged women to also take part in the driving business so they can empower themselves financially, and drivers to stop overspeeding on the road.
The much-anticipated launch of the 2019 Ghana Drivers and Road Safety Awards will take place at the Obra Spot on June 18th.
In an interview with the Director of Partnerships of the Ghana Drivers Awards and Road Safety Foundation, Ms. Freda Frimpong disclosed that this awards scheme is to raise champions of road safety and driving excellence at lorry stations and companies across the country.
She added that it is necessary for every driver to get more training to acquire more knowledge and skills to identify the type of road signs and other road information to avoid road accidents. She called on drivers, specifically commercial drivers, to take part in this initiative.