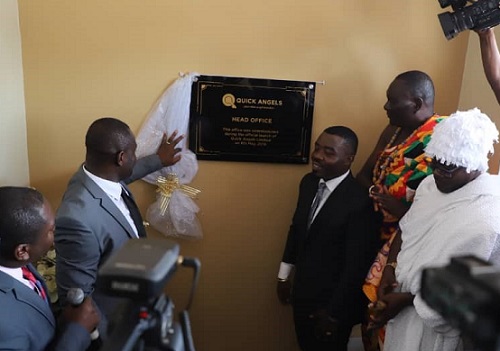 Quick Angels, an indigenous angel investor company, has officially launched its operations with a pledge to contribute significantly to economic growth and national development.
The company seeks to offer seed equity financing for startups and help expand existing businesses by making available the requisite equity capital and premium management expertise. Quick Angels also invests by partnering already-existing SMEs and Indigenous startup businesses with the aim of providing strong financial returns.
Speaking at the launch of the business, the Chief Executive Officer of Quick Angels Limited, Mr. Richard Nii Armah Quaye said: "I have come to appreciate the challenges entrepreneurs go through with my experience as an entrepreneur.  We are therefore Introducing a personalised real-time financial support through innovative 'angel investing' with an interest in startups, and also restoring promising businesses through strategic partnerships''.
Mr. Quaye stated: "There are a lot of individuals who would like to run their businesses, but however are unable to do so due to lack of funds. There are also a lot of startups that are gradually collapsing because of lacking funds. Our core focus is to provide funds in support of these businesses, which will in turn contribute significantly to the country's economy".
He added that the company's services include startup equity financing, Early-stage Equity financing, Business Growth equity financing, and Buying and selling of businesses.
The Chief Executive Officer of the National Entrepreneurship and Innovation Plan, NEIP, John Kumah, lauded the investment company for its initiative and has advised Ghanaians, especially investors, to run quickly to Quick Angels limited for business rather than rely on governmental institutions for financial support.
He appealed for start-ups to allow Quick Angels to invest into their businesses, so they share their profit when the business grows.
The Brands and Communications Manager for the company, Mrs. Veronica Ofosuhemaa Owusu-Ansah, noted that the company is committed to supporting startups and social entrepreneurs to ease the burden of government, and in turn bring about socio-economic development in the country.
She is optimistic the 'angel investor' approach is the way to go, considering the unemployment rate in the country.
She added that Quick Angels Limited is Ghana's truly ideal angel investors to depend on.