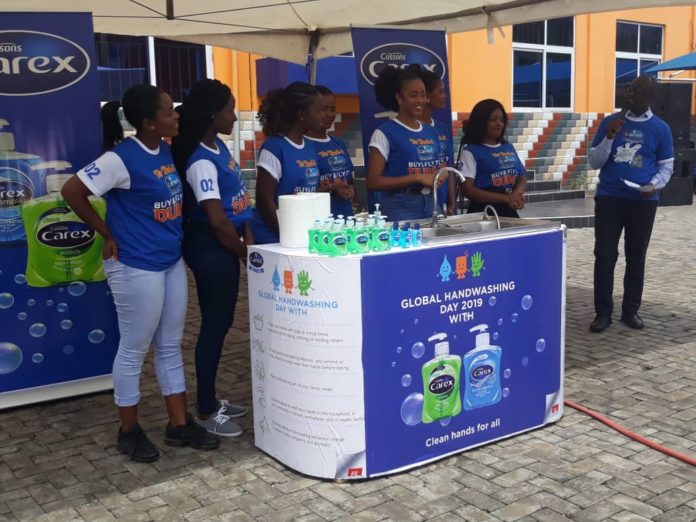 PZ Cussons has joined the world to mark the global hand-washing day at the Datus Primary and JHS in Tema to raise awareness on proper hand-washing practices to prevent diseases such as cholera.
The Global Hand-washing Day is celebrated annually on October 15, with the aim of educating the world on the need to always practice proper hand-washing on key occasions; before meals, after using the washroom, and after changing babies.
Every year, PZ Cussons marks global hand-washing day with various Corporate Social Responsibility (CSR) activities led by the Carex brand.
The theme for Global hand-washing day 2019 is "Clean Hands For All" and it focuses on encouraging people from all walks of life to inculcate good hand-washing habits.
In partnership with the Ghana Medical Association and TV3's Ghana's Most Beautiful, PZ Cussons marked the Global Hand-washing Day by demonstrating proper hand-washing techniques the pupils of the Datus Primary and JHS after fun-packed activities.
During the engagement, Dr Sarah Davis, a member of the Ghana Medical Association, demonstrated to the children the most effective way of hand-washing with soap and explained the benefits of hand-washing with soap under running water.
She said "We are concentrating on clean and frequent hand-washing using the right techniques to wash your hands. If you wash your hands, you become healthy and you do not fall sick which makes your productivity increase."
Explaining proper hand-washing, she said people have to make sure they wash their hands with soap under running water.
"You wash your palm, you wash the back of your hands and in between your fingers including the your finger nails and then you wash the water off of your hands. Ideally you should not take less than a minute to wash your hands and then as much as we have hand sanitizers around, once you use it twice or three times in a day, you have to wash your hands with soap under running water", she added.
Dr. Davis advised that communities and people who do not have access to clean water should boil the water they have, allow it to cool down and sieve it for use. She advised that corporate institutions have to come on board to practice proper hand washing.
In an interview with the Category Manager for Personal Care, Mary-Ann Boateng, she noted that the global hand-washing day on a whole is specifically relevant to PZ Cussons because the company has products that are specially formulated for hand washing.  These are the Carex hand wash and the Carex hand sanitizer.
"For our company and brands, we champion health and nutrition and Camel and Carex are the champions of health. One of the ways we can keep healthy is through good hand-washing habits", said Madam Mary-Ann.
According to her, PZ Cussons believes that teaching children to practice good hand-washing habits will not only stay with them for the rest of their lives, but will also free them to explore and enjoy their childhood free from germs and diseases.
She said this year does not exclude anybody as the theme; Clean Hands For All stands for. "We targeted children because when you teach a child how to wash their hands, you have touched their aunties, their uncles, their siblings and their friends how to wash their hands so that's one way of reaching lots of people without having to go to specific segments. Children are the best vessel for reaching people", she added.
Madam Mary-Ann Boateng explained that the TV3 Ghana's Most Beautiful team represent all the regions of Ghana and therefore were a good channel to reach out to send the message of clean and proper hand-washing practices to the whole of the Ghanaian population.