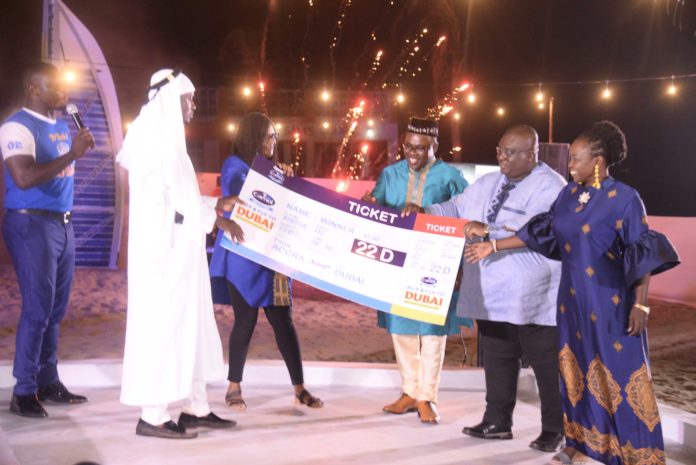 PZ Cussons Ghana Limited, a major manufacturer of personal healthcare products and consumer goods, has launched its second edition of Camel Buy and Fly to Dubai promotion
It is a nationwide camel scratch and win promotion for PZ Cussons consumers offering prizes including airtime, product hampers and an all-expense paid trip for two to Dubai to one lucky person every week for 12 weeks.
The aim of this customer loyalty initiative is to promote both physical and mental wellbeing of consumers.
Head of Brand Development and Activation, PZ Cussons, Hafsa-Rimantha Arthur, indicated that last year, the Camel Buy and Fly consumer promotion was pivotal in delivering growth of over 500 basis points irrespective of the projected stiffened market conditions
"The highest point of the year for me was seeing the expression of pure joy from these consumers during their trip to Dubai.  No words can describe that feeling when you bring people's dreams to pass. This is why we are here today to launch the second edition of the Camel Buy and Fly to Dubai promo.
"Innovation is critical to our growth; our relaunched New Camel antiseptic offers an improved user experience with its improved pine fragrance. If you haven't already tried it, the good news is everyone here goes home with samples of the new improved Camel antiseptic liquid," she said.
She further indicated that PZ Cussons is committed to playing its part in conversing the planet's precious natural resources, safeguarding the environment for future generations and limiting any negative impact on the lives of their consumers and communities.
"As such, we launched in 2018 a "25 by 25" campaign which builds on the significant work that we have undertaken in recent years to reduce plastic in our products. By 2025, we will use 25 percent less plastic, have 30 percent recycled content in our plastics and our plastics will be 100 percent reusable recyclable or compostable," reiterated.
The promotion, which runs from 6th September to 6th December 2019, is valid only in Ghana and participation in the promotion is restricted to persons who are legally resident in Ghana.
To participate, one needs to get any Camel Antiseptic or Carex product with a scratch panel at any outlet, scratch the panel and text the numeric code to short code 1393 free of charge. A weekly draw will be held to choose the winner of a trip to Dubai.
Business Unit Director, PZ Cussons, David Afflu, said: "We are committed to providing our consumers with quality and innovation at the best value. With a portfolio ranging from homecare, nutrition (Nunu Milk), baby care and personal care (Camel, Carex, Imperial Leather), I am very certain every Ghanaian will have at least one of our products in their home.