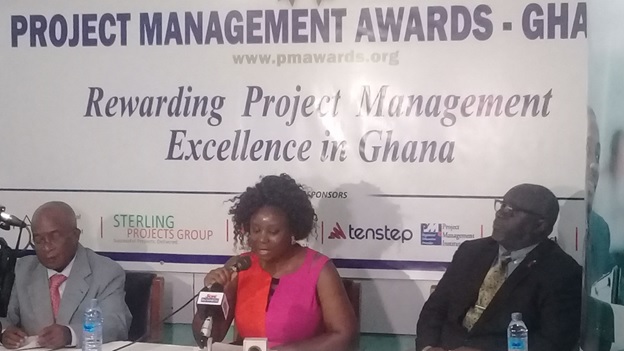 The Management Excellence Foundation, an independent not-for-profit organisation, has launched the maiden Project Management Awards in Accra.
The initiative seeks to promote and recognise management excellence and standards in the country, and will also create awareness as well as encourage institutions to manage their projects properly.
Speaking at the launch, Rev. Moses Tetteh – Chairman of the Project Management Awards Board, stated that as a nation it is high time projects are executed properly in order to make steady progress in the various areas of development.
He said that a large percentage of every nation's revenue is spent on projects, hence the need for proper project management and execution.
"Managing projects is not only about delivering the projects effectively, but also optimising the life-cycle costs of the built assets. These investments play a key role in improving the quality of living for the population, since most emerging economies have a wide range of social challenges," he said.
He called for the creation of an independent body to monitor and evaluate projects in the country. This, he said, will enable the project managers to execute their projects well and uphold the best industry practices, as well as push higher the benchmark standards for project execution.
On her part, Madam Jean Asare – a member of the Project Management Awards Board, stated that most projects fail because commonsense and organisational skills are used without a framework and methodology.
She stated that if we want to be seen as a country that is making giant steps in our development, "then we need to manage our projects properly".
"There is a direct correlation between better-managed projects and mature economies. Advanced economies have managed projects better than their non-advanced counterparts. As a country, we can see that we haven't managed a lot of projects well. This can be seen in the level of maturity in our economy. If we want to be seen as a nation that makes strides in our development, then we need to manage our projects well," she noted.
She called on project management practitioners to submit their project proposals for the awards.
The awards target individuals or organisations with specific considerations: such as their financial performance, growth, revenue generation, wage generation, job creation and overall impact on the economy.
According to the organiser, the awards seek to demonstrate the value of economic development work for local communities, the pursuit of best practice in economic development through projects, and attaining the highest standards of professional conduct and competence in the project management space.