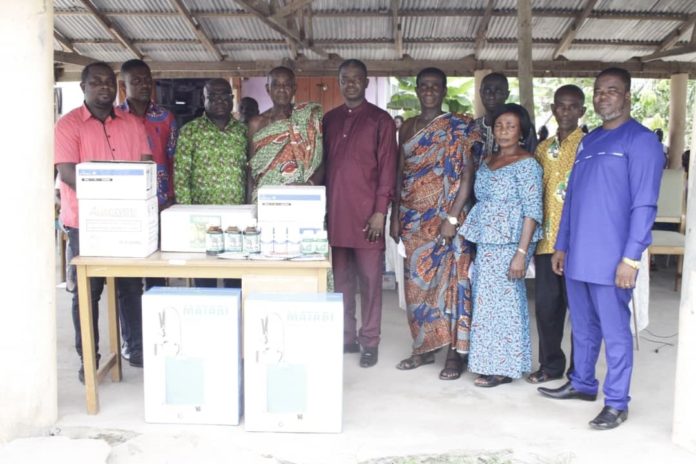 Produce Buying Company (PBC) Limited has organised training for cocoa farmers at Esiama in the Ellembelle district of the Western Region.
The training forms part of PBC's Cocoa Sustainability Initiatives and Inputs and Certification Unit (ICU) programme, and is meant to educate cocoa farmers on good agricultural practices, agroforestry, integrated pest management, good environmental practices, post-harvest management, as well as forest protection and restoration.
Also, it is to help cocoa farmers produce cocoa sustainably, obtain higher cocoa yield per unit area, increase income and improve upon their livelihood.
Mr. Samuel Amissah, Project Development Manager at PBC Limited at the training explained: "We are here to let cocoa farmers understand the importance of protecting the forest and environment in combatting climate change, which has adverse effects on farming activities.
"We are here to give them training on input and certification as well as encourage them to form cooperative that will support their businesses," he said.
He added that the training is to enable the cocoa farmers to learn the best farming practices and interventions introduced by government: such as irrigation, mass pruning, provision of fertiliser and insecticides, among others, as some of the interventions introduced to cocoa farmers.
Mr Alfred Ofori Annye, PBC Deputy Chief Executive Officer (CEO) in charge of Operations, assured cocoa farmers that PBC has not collapsed as is being purported.
He explained that PBC has had financial challenges for the past five, and that government is providing financial support for the company to purchase cocoa in October this year.
According to him, documentations are ongoing in anticipation of government's financial support in the first week of October to purchase cocoa. "Let me assure you cocoa farmers that PBC is going to purchase cocoa this October. In September this year, PBC organised a similar programme at Konongo in the Ashanti Region, with about 4,000 cocoa farmers in attendance. The training is an ongoing activity and will be implemented in other cocoa districts as well – to help achieve Ghana's cocoa production target, improve farmer livelihoods, protect the forest and restore degraded farming lands," he added.